Live Status & Pune to Bikaner Bike Transport Information
(Date 1/4/2023)
| | |
| --- | --- |
| Current Status | SERVICEABLE as of Today - Date 1/4/2023 |
| Distance | 1352 KM |
| Source | Pune, Maharashtra |
| Destination City | Bikaner |
| Destination State | Rajasthan |
| Charges | From ₹ 4862 for Direct Pincode; From ₹ 5462 for ODA |
| Contact | 8871226766 |
| Delivery Type | Door Delivery |
| Pickup | Door Pickup at Extra Charges |
| Other Active Services | Bike transport, Bike Courier, Courier, Bike Transport, Transport Service, Courier Service, Part Load Transport, Luggage Transport, Packers and Movers, Express Logistics Service, Scooty Transport, Household Goods Shifting, Logistics Service, Goods Transport |
Bike Courier Services from Pune to Bikaner
Bike Transport Services is one of the most important transportation services in India. We provide bike courier services, bike movers, household stuff, and Bike Packers in Pune to Bikaner at a reasonable price.
It's never been easier to send a bike! We carry all sorts of automobiles and provide a variety of services tailored to your specific requirements. We specialise in the transport of bicycles, motorcycles, scooters, and even cycles! Our rates are competitive, and we provide a high-quality packing service to Bikaner. All you need is the PIN number for your neighbourhood, and we'll take care of the rest.
Weeple is the firm to trust if you need a dependable and high-quality automobile transport service. We provide an unrivalled level of service. To learn more about our Pune Bikaner services and to get a quotation, simply fill out the form or contact our phone to receive the best pricing.
Directly Accepting following bikes for Pune to Bikaner, Please call our customer support to get status for others
Honda - Activa - Scooter
Triumph - Boneville T100 - Performance
Royal Enfield - Classic 350 - Performance
Royal Enfield - Continental GT - Performance
TVS - Zest - Scooter
Suzuki - Lets - Scooter
Bajaj - Discover 125 cc - Motorcycle
Suzuki - GSX-S1000 - Performance
Hero - Splendor - Motorcycle
TVS - RR310 - Performance
Bajaj - Avenger 220 cc - Motorcycle
Bajaj - KTM Duke 390 cc - Motorcycle
Kawasaki - Ninja300 - Performance
Harley Davidson - 1200 Custom - Performance
Recently accepted goods for transportation from Pune to Bikaner
Hobbies & Creative Arts - Arts & Entertainment - Musical Instrument & Orchestra Accessories
Outdoor Recreation - Sporting Goods - Golf
Athletics - Sporting Goods - Track & Field
Hobbies & Creative Arts - Arts & Entertainment - Musical Instrument & Orchestra Accessories
Camera & Optic Accessories - Cameras & Optics - Tripod & Monopod Accessories
Clothing - Apparel & Accessories - Uniforms
Vehicle Parts & Accessories - Vehicles & Parts - Vehicle Maintenance, Care & Decor
Costumes & Accessories - Apparel & Accessories - Costume Accessories
Lighting - Home & Garden - Light Bulbs
Food Items - Food, Beverages - Fruits & Vegetables
Outdoor Recreation - Sporting Goods - Fishing
Clothing Accessories - Apparel & Accessories - Pinback Buttons
Hobbies & Creative Arts - Arts & Entertainment - Arts & Crafts
Building Consumables - Hardware - Chemicals
Presentation Supplies - Office Supplies - Wireless Presenters
Plumbing - Hardware - Plumbing Fittings & Supports
Outdoor Recreation - Sporting Goods - Boating & Water Sports
Athletics - Sporting Goods - Baseball & Softball
Food Items - Food, Beverages - Fruits & Vegetables
Tools - Hardware - Saws
Kitchen & Dining - Home & Garden - Food Storage
Best Bike Courier Service
Weeple bike transport business in Pune is a dependable vehicle transport company in Pune aimed towards Bikaner that provides high-quality bike packing and covered transportation. This company's pros will pack the bike with care in a 3-layer packing and carefully put it onto the cargo carrier to Bikaner.
When it comes to saving time and money, motorcycles are the way to go. We deliver bikes of any size and at any location. In Rajasthan, Two Wheeler Transportation Service provides bike movers for bike moving, on-time delivery, and much more.
Bike Transport by Road is the most convenient and cost-effective method of bike transportation. We offer a wide range of bike transport services, such as bike courier services, bike movers, bike packers, and more. You can reserve a bike with us for personal use or to transport stuff from one location to another.
It is a customer-focused bike transportation service. We pick up, pack, and ship motorcycles from Pune to anyplace in Rajasthan. We can provide you with a secure and dependable bike transport service in Pune to Bikaner, regardless of where you reside or where your bike has to travel.
Book Bike Transport Service
It is a new business that offers consumers a cheap and simple option to transport their two-wheelers to Bikaner. This transportation service is ideal for customers who are relocating, cannot keep their bicycles, and must send them to their destination city, as well as anybody who wants their bicycles moved across the country. Customers can select from a variety of choices, including full-service relocation, partial relocation, and shared shipping services.
Our organisation provides bike transportation services from Pune to Bikaner. We are dedicated to offering excellent service, competitive pricing, and on-time delivery. We have an experienced team of specialists that have the knowledge and competence to manage the demands of our customers. Our customer support staff assists you before, during, and after your order is delivered to ensure that you are completely happy with our services.
Individuals, companies, and new or existing communities can all benefit from our bike transportation services. Weeple is one of the organisations that provides countrywide bike transportation services to over 18000 zip codes, including Bikaner, Rajasthan.
Reliable and Trusted Bike Shipping Service
A bike delivery service When it comes to shipping your bike, the best route is from Pune to Bikaner. We specialise in relocating bikes so you don't have to deal with the trouble. We have a wealth of expertise and knowledge, and we strive to adhere to the highest standards so that our packing methods safeguard your bike from wear and tear during transit and limit the likelihood of damage to your bike.
Moving may be a headache, but Weeple Bike Transport Pune to Bikaner has made the procedure as simple and efficient as possible. We specialise in bike transportation for all sorts of bikes, including commuters and mountain bikes. Bike Transport provides a wide range of services, including customer service, bike transfer, and stress-free moving.
Many people in Pune who are shifting their household items to a new area and seek additional services require the best bike transportation services and other Pune to Bikaner transport services. This is not only a more ecologically friendly mode of transportation, but it is also a more cost-effective method of completing the relocation.
Popular Localities for Pune to Bikaner Transport
Area
Zone
Locality
City
Belha
Mangrul
Bhorgiri
Nalavane
Kuruli
Sangvi
Khed Shivapur Baug
GovtPolytechnic
Hingangaon
Kodit
Sakori Tarfe Belha
Kendur
Bikaner
Biakner
Other Areas
Chhatargarh
Khajuwala
Kolayat
Lunkaransar
Nokha
Bikansr
Dungargarh
Get Rates for Bike Transportation Services
Bike Packers and Movers has been offering consumers with high-quality and comprehensive bike shipping business services. Loading, unloading, packaging, and shipping are all part of the transportation process. They ensure that you receive excellent service at the lowest possible cost, with no hidden fees.
Bike Parcel provides low-cost bike transport, bike shipping, and movers services in Pune and Bikaner. We've helped clients all throughout the country relocate to new homes with ease. Our transportation service is simple and will get your bike to your door quickly. You may rely on our skilled packers to handle any packing materials required for the shipping.
Bicycle transporters and delivery services are springing up all over the world. Weeple provides a number of services, including a bike carrier and a bike delivery service with no hidden fees. Weeple also has fair rates that are far cheaper than what you would anticipate to spend with other delivery providers in the area till Bikaner.
Two Wheeler Transport Services
Bike carriers are a more cost-effective choice for bikers who wish to transport their bikes to Bikaner than using a train or bus. Bike Parcel makes sending your bike by rail more easier. They provide a wide range of bike carriers that fit various types of bikes and can manage packages of any size or form. Not to mention that they provide a fixed fee across the country, even distant and isolated areas.
We are a bike carrier, bike delivery service, and Pune to Bikaner bike courier service provider with no hidden fees en route to Bikaner. Bike Carrier Company makes most of its deliveries on schedule and with high-quality goods.
Bike carriers are intended to transport bicycles on the backs of vehicles. Bike Parcel Services provides bike carrier service beginning at ₹3000 and may be delivered to your house or business. If you reside in an urban area with parking constraints, this service may be ideal for you.
Movers for Bike Shifting
It is the most frequent mode of bicycle transportation. Bike movers from Pune to Bikaner are flexible service providers that can not only move your bike but also offer packaging and shipping services to reduce the chance of damage during shipment. They may also assist you in transporting your household items to Pan India.
Our top objective is to provide excellent service. Our competent team of specialists provides you with a tailor-made solution to your Bikaner relocation needs. We provide house and office relocation services, as well as vehicle and bike transportation, and packer and movers services. Bike Transport Pune to Bijainagar, Rajasthan is a famous neighbouring bike transport service that is frequently required for bike transferring.
When it comes to transferring your bike, you want to make sure it is treated with care. Weeple Packers and Movers Pune to Bikaner provide the best bike transportation services for cars of all sizes destined for Bikaner. Our crew can pack up your bike and store it safely for travel by according to industry standards. We provide comprehensive home goods transportation services, allowing you to relocate with confidence.
Bike Parcel Service
Bike transport frequently need a great deal of skill and a professional touch. Nearby Pune to Bikaner Bike Parcel Service You can assist you with all of your bike transfer requirements. We provide a number of services, including bike storage, bike transportation, and bike delivery. Our staff has extensive expertise transferring bikes from one area to another. They will carefully and securely bundle your bike before placing it on the truck or trailer for safe transportation to your destination.
The procedure of transferring motorcycles from Pune to Bikaner is known as bike transfer. This may be done with or without you driving the bike. Professional bike movers can assist with the entire procedure, including prepping the bikes for shipment, putting them into a van, and transporting them to their destination. With Us, you can also book Indore to Bikaner Bike Transport services.
Transporting bicycles may be both difficult and costly. Hiring experienced bike movers up to and including Bikaner is the easiest method to avoid the bother. Pick up, cutting down, packaging, loading, unloading, and delivery are all services that a reputable bike mover may do. They also provide safe packaging materials for relocating your bicycles. Bike movers understand how to carry bikes safely and will be able to provide expert service.
Scooty Packers & Movers is a form of scooty relocation on the road to Bikaner that is safe and dependable. This is owing to its numerous functions, including the capacity to move things and even motorcycles. Movers Organization is another form of logistics company that may be utilised to carry commercial items. Vans and trucks are two examples of vehicles that may be used to carry bikes.
Calculate Pune to Bikaner Bike Transport Charges
The cost of Bike Courier service is decided on the weight and size of the product to be delivered. The weight of the delivery is determined by the size and weight of the bikes, as well as the packing. The cost of a bike courier service may vary based on the sort of delivery you want.
Factors Influencing Bike Shifting Fees from Pune to Bikaner
Despite the fact that bike shifting service fees vary, there are certain general characteristics that may be utilised to estimate them. These elements are as follows:
CC of the Bike

The courier service prices are computed based on the cubic capacity of the bike. The shipment's description includes its weight, volume, and dimensions. In general, the more the courier service fees, the higher the CC.

Location

The price of a bike courier service varies according to where you reside. This is because the cost of shipping an item varies based on how far it has to go.
If you're seeking for the best rate on a bike shipping service to assist you send your motorcycle, you've come to the correct spot. If you fill out the form on the right side of this page, we will provide you with an estimate for bike shifting fees. Professional courier packing may also be used to carry baggage, a suitcase, or other personal belongings to a friend or relative. Weeple Logistics can help you with shipping from Pune to Bikaner. You may also schedule Pune to Bilara, Rajasthan Bike Transport.
Get Bike Packers and Movers Charges
From Pune to Bikaner Packers and movers for bikes are the greatest options for transporting your bike. If you are seeking for relocation services, you may use this post to choose the finest service provider.
Packers Movers is the greatest choice for transporting your bike or automobile to any destination. Many vehicle and bike transport businesses offer a variety of services such as door-to-door pickup and delivery, packaging, and storage.
Bikaner movers and packers offer a wide range of bike transportation services. We have the competence to handle all of your demands, whether you have a single bike or a group of bikes to transfer. We can carry bikes in a variety of vehicles, including automobiles, trucks, vans, and others.
It is not an easy undertaking to relocate to Bikaner. You must do everything on your own, from packing to transportation. As a result, individuals in Pune engage professional movers to assist them with the procedure.
Do you want to be more efficient and save time? Allow us to assist you. We provide two-wheeler transportation, bike motorbike transfer, bike movers, household goods transport, and much more at reasonable prices.
A highly trusted and #startupIndia recognized startup!
About Us
Covered by various newspapers.
Weeple Logistics Solution Private Limited
Weeple Logistics Solution Private Limited is a well-known private limited company that specialises in all types of product shipping from Pune to Bikaner utilising cutting-edge technology. For many years, we have provided unrivalled service to some of India's most well-known enterprises.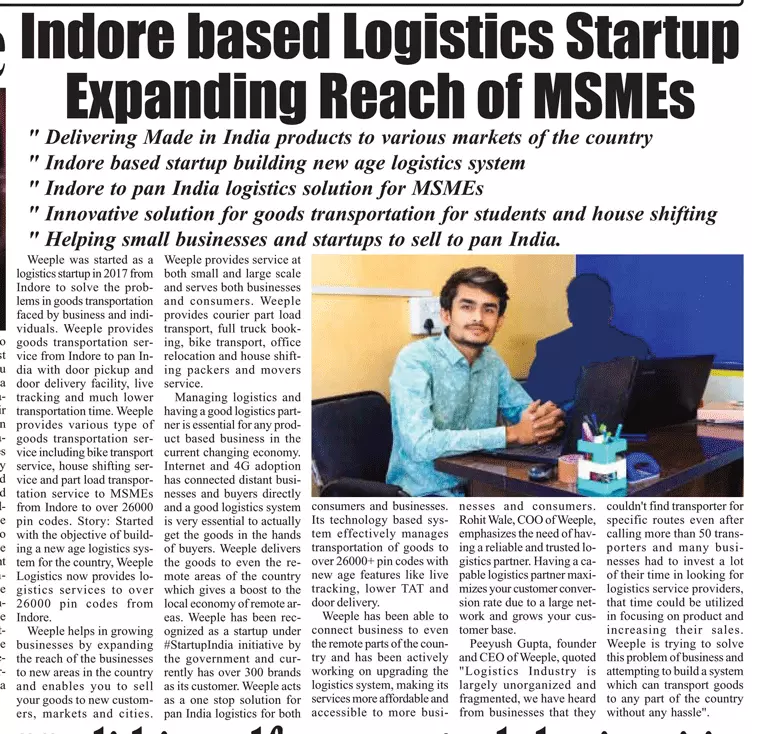 Frequently Asked Questions
Click on (+) icon inside the box to open different pieces of information
How much does it cost to transport a bike to Bikaner?

The cost of transport varies based on:

Distance
The size and weight of the bike
The carrier used

The cost of transporting a bike to Bikaner often ranges between ₹3,000 and ₹10,000, depending on the distance and capacity of the bike. A bike without a box is often less expensive than a bike with a box.

A excellent bike transport business makes it simple to transfer a bike. The cost of moving a bike is determined by a variety of factors. These include the bike's size, distance, weight, and even where you are taking it.

How can I send my bike from Pune to Rajasthan?

Shipping a bike is a simple and cost-effective solution to move your two-wheeler from one state to another. There are other alternatives for Bikaner, such as utilising a shipping firm or loading it onto a vehicle. Before you make a decision, make sure you compare prices and plan for your bike's safety.

How much does it cost to send a bike by courier to Bikaner?

Depending on the size, CC, and weight of the bike, couriering it can cost anywhere between ₹3000 and ₹10,000.

What is the cheapest way to ship a bike?

Shipping a bicycle might be costly, but it does not have to be. Weeple is the cheapest option to freight a bike to Bikaner. They provide the lowest rates for bike shipping and their prices are affordable regardless of how large or little your cargo is. You may also save money by going on a sharing basis, which can save you up to 60% on shipping expenses.

How can I transport my bike from Pune to Bikaner?

There are several methods for transporting a bike from one location to another. One alternative is to order a Pune to Bikaner bike courier service and have it transported to your home. This also contains three layers of wrapping, which decreases the likelihood of the bike being damaged.
Get in touch
Weeple is one of the best ways for transporting your bike to Pune. Weeple is a registered private limited business with cutting-edge technology, a comprehensive transportation solution, #startupIndia recognition, India-wide reach, and a slew of other fantastic features.
3000+ Cities Covered
Door to Door Service
Complete Logistics Service
Highly Trusted and Recognized
Live Tracking & Latest Technology
Transporting a bike and a scooter to Bikaner is simple!
Book Bikaner Bike Transport Service at the Lowest Price Now!