Wide range of Parcel & Courier Services from Pune to 3000+ Cities!
Weeple is operated by a young energetic team of professionals with experience in supply chain planning, packaging material handling concepts, planning, and execution of truck-load transportation and warehousing solutions. We offer our customers peace of mind knowing that their shipments are in good hands from origin to destination. Weeple's services comprise Door-to-Door, Door Delivery, Domestic Transportation, Warehousing, and Full Supply Chain Solutions. Weeple provides moving services in Pune for various kind of goods.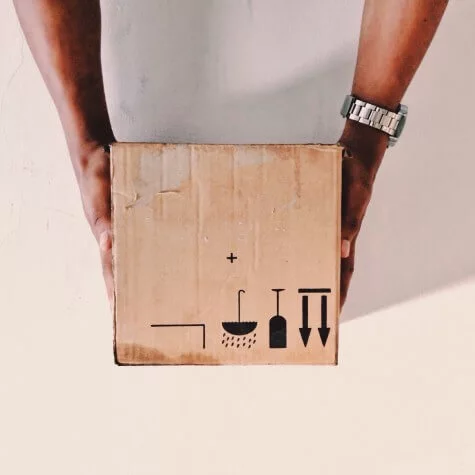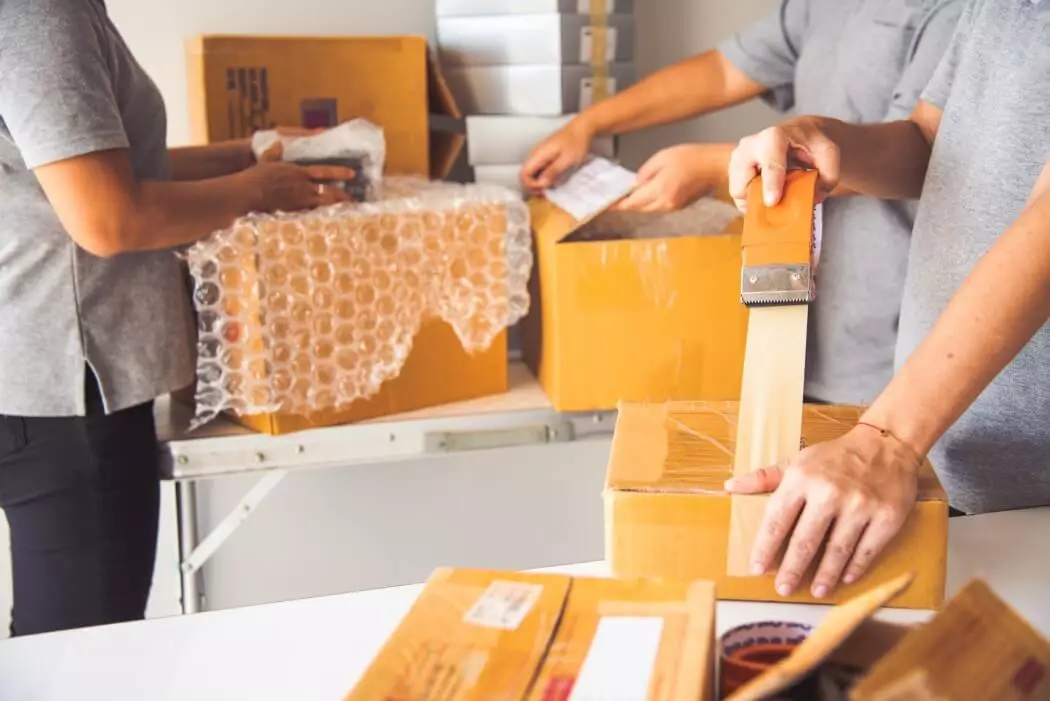 Courier Service in Pune with Doorstep Delivery!
You can book a door to door courier and parcel service for your goods in Pune, where pickup charges are sometimes is charged additionally to basic freight charges in case of small shipments. Weeple provides free door delivery of your goods on most of the pin codes. You can check the pickup charges by calling us, and also check the availability of door delivery at the destination city at the time of booking. Our team will make sure that you feel no stress in shifting to a new city. Weeple has been working hard to create a problem-free solution for transporting your material from one city to another, hassle-free.
Courier your bike, scooty, boxes, clothes, and other items in Pune.
Weeple provides you with the best logistics solutions for your transportation requirements. You can book scooty parcel service, bike parcel service, boxes transport services, and your personal items transportation service. From small shipments and big parcel service to bike parcel service and storage, Weeple provides you with a multitude of options with pricing that is as transparent as possible. We are committed to providing you with the best solution at the best cost possible. We are a logistics service provider that focuses on customer satisfaction above all else. We provide door-to-door solutions in Pune for any kind of package delivery, and even storage and vehicle transportation for bikes. Contact us today for a quote that works for you, and save money on shipping packages or cargo.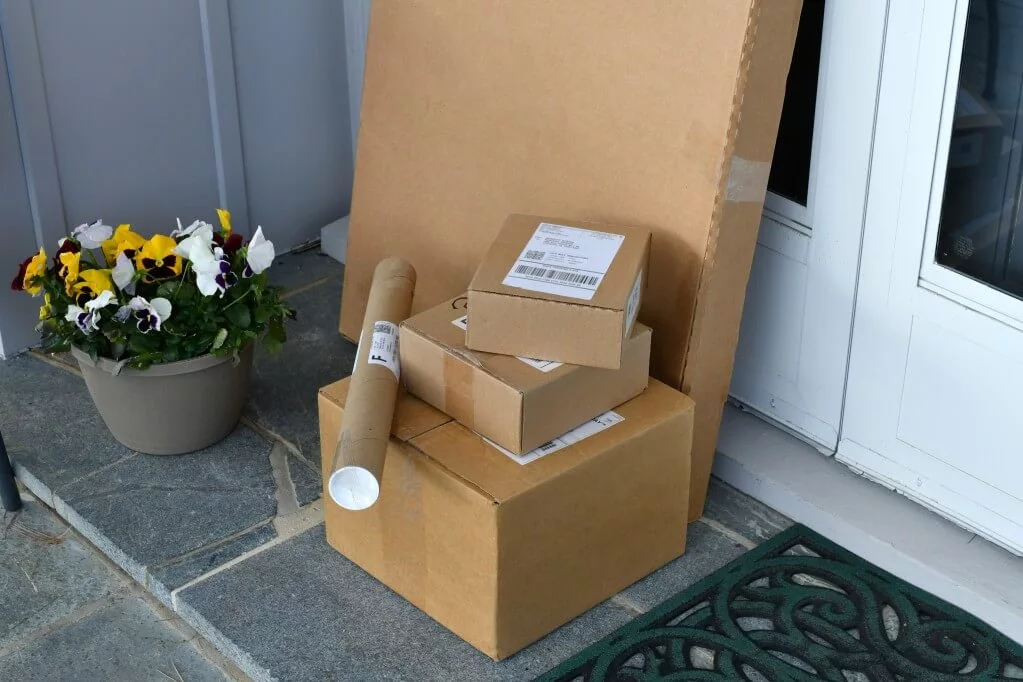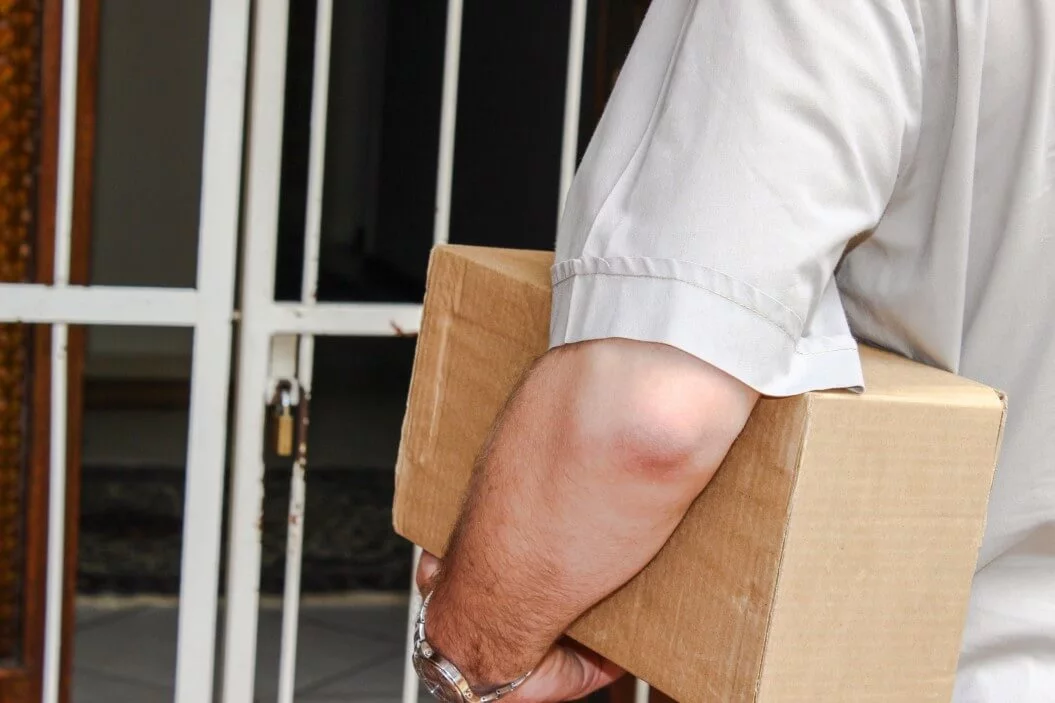 What is mostly transported in bike parcel and courier service in Pune and what can be added?
Your parcel and courier service booked from Weeple generally includes the following:
Bags and Luggage
Clothes and Notes
Personal Equipment and Gadgets
Bike Parcel and Courier Service with Packaging
Scooty Parcel and Courier Service with packaging
Since Weeple is truly a one-stop solution for all your goods transportation requirements in Pune, you can book other goods transport services from us along with courier and parcel service.
Scooty and Bike Transport Service in Pune: Weeple provides an easy-to-book bike transport service that is economical and includes packaging, live tracking and door delivery at your address. We provide two wheeler vehicle transport service with a three-layer packaging worth Rs 1500 included. This service is separately booked and charged.
Pickup From Your Address: In Order to provide a complete door to door logistics service experience, Weeple provides a pick-up facility from your address. This is added to your goods transportation booking and is charged separately. You can check the pick-up charges from your address by calling us. Free door delivery is included in most of the booking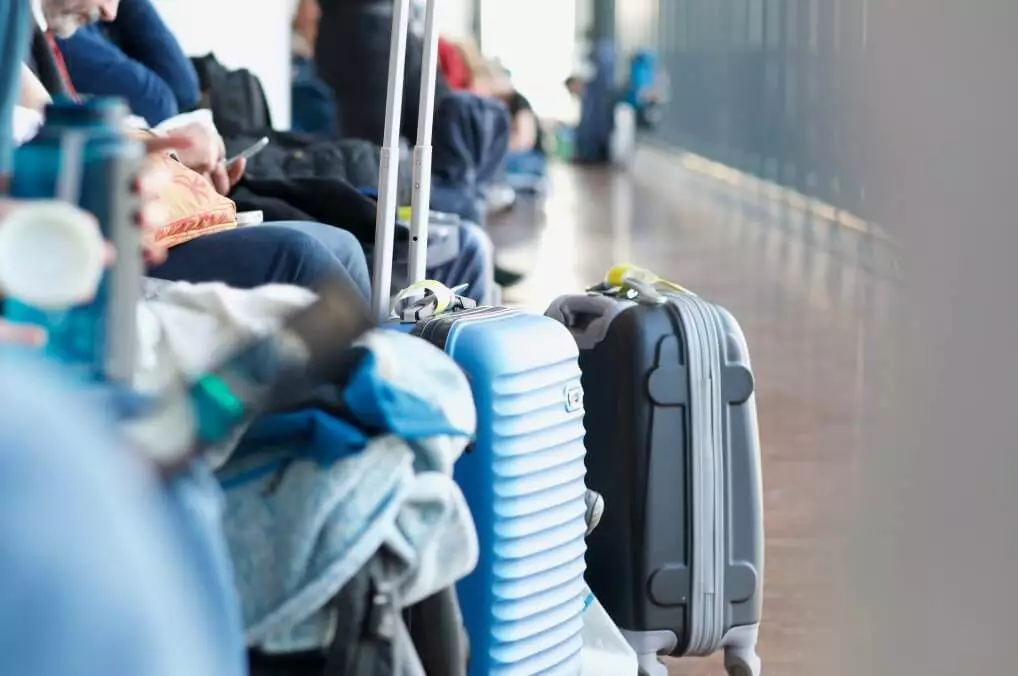 What are the charges for express courier services in Pune?
The rates depend on the location, dimensions, and weight of the goods that are used to calculate the volumetric weight. Since Weeple operates in multiple cities and goods are transported to multiple locations, the charges vary from location to location. Get a free estimate and quote for courier service to destination city by calling us or filling the get rates from. The actual billing amount depends on the final weight and dimensions of the goods.
Frequently Asked Questions
Click on (+) icon inside the box to open different pieces of information
What are the document required for courier service in Pune?​​

You need following three documents (Photo Copy)
1. Invoice copy or Aadhar Card copy of sender.

What are the charges for courier service in Pune?​

Weeple has charges staring from ₹299 for for 10Kgs. The charges depends on the volumetic weight, invoice amount and the destination city. Call us to courier service charges estimate.

How much time taken in courier service from Pune?​

Time taken for transporting your vehicle depends on
1. Distance
2. Serviceability
If the destination city is a rural area, then it will take more time as a separate vehicle is required to be sent for delivery. You cas expect a time period of 3 to 7 days. However it may increase depending on the conditions.

Is insurance necessary for bike transport in Pune?​

Yes, insurance of vehicle is mandatory. Though there is no general a case of damage in two wheeler transportation, we don't take liability to compensate in case of damage. It's necessary for you to have an insurance policy which can be used in case of some damage to the vehicle

Can I get boxes and other packaging material for items?​

Yes, Weeple also provides packaging facility for your items. This service is additionally charged.
A highly trusted and #startupIndia recognized startup!
About Us
Covered by various newspapers.
Weeple Logistics Solution Private Limited
Weeple Logistics Solution Private Limited is a trusted private limited company with the latest and most innovative technology. We have been providing unmatched service for years, serving some of the most admired brands in India.
About Weeple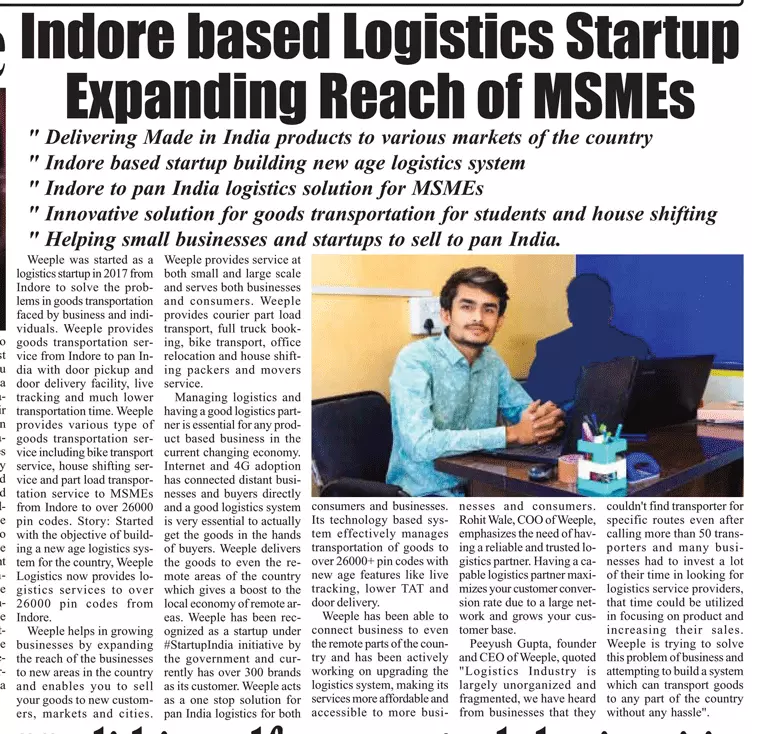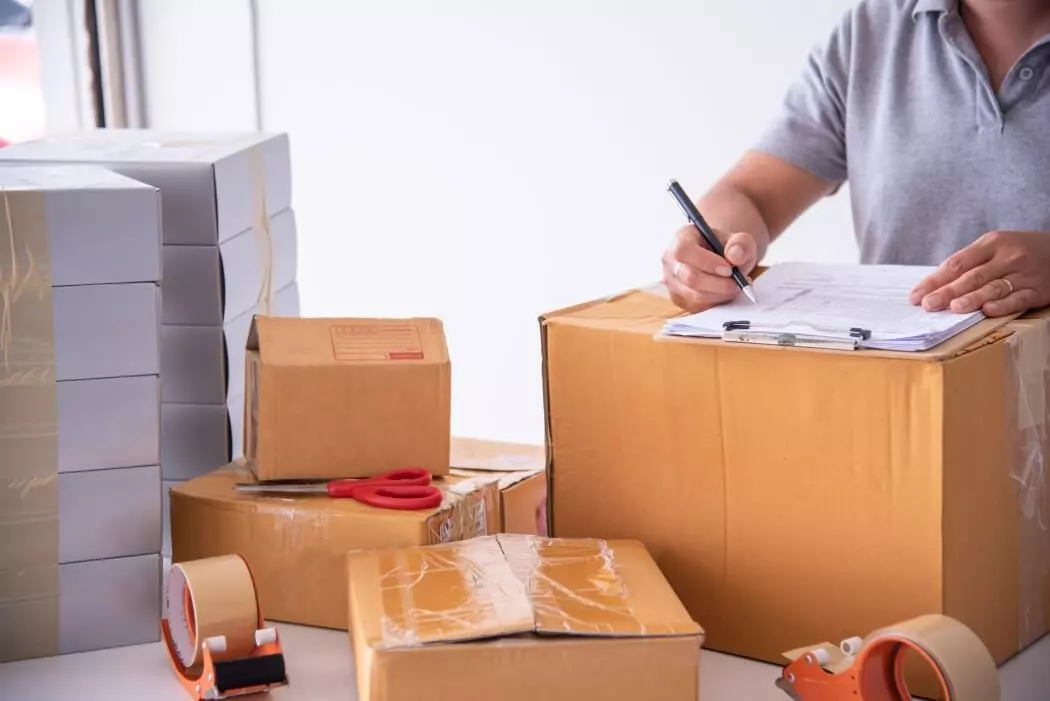 Part Load Transport Service In Pune
With our transport solution for small quantities, you can easily book and transport any number of packages to over 26000 PIN codes nationwide without having to stress over transportation costs associated with freight charges of an entire truckload. We will charge you only for the space your shipment takes up which is calculated as per the charged cubic feet and weight.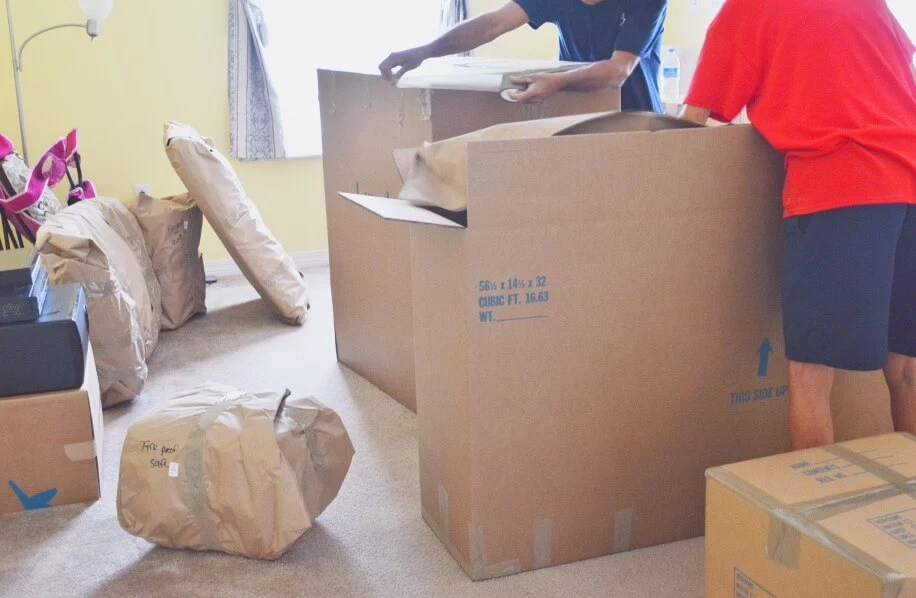 Packers and Movers In Pune
Weeple Logistics is one of the most cost-effective packers and movers in Pune with all the required features. We move household goods to over 3000 cities in India. Your house shifting service generally includes door-to-door delivery, quality packaging, live tracking, and zero hidden charges at each step of the transportation process. You can also transport any quantity under this service, subject to a minimum cap.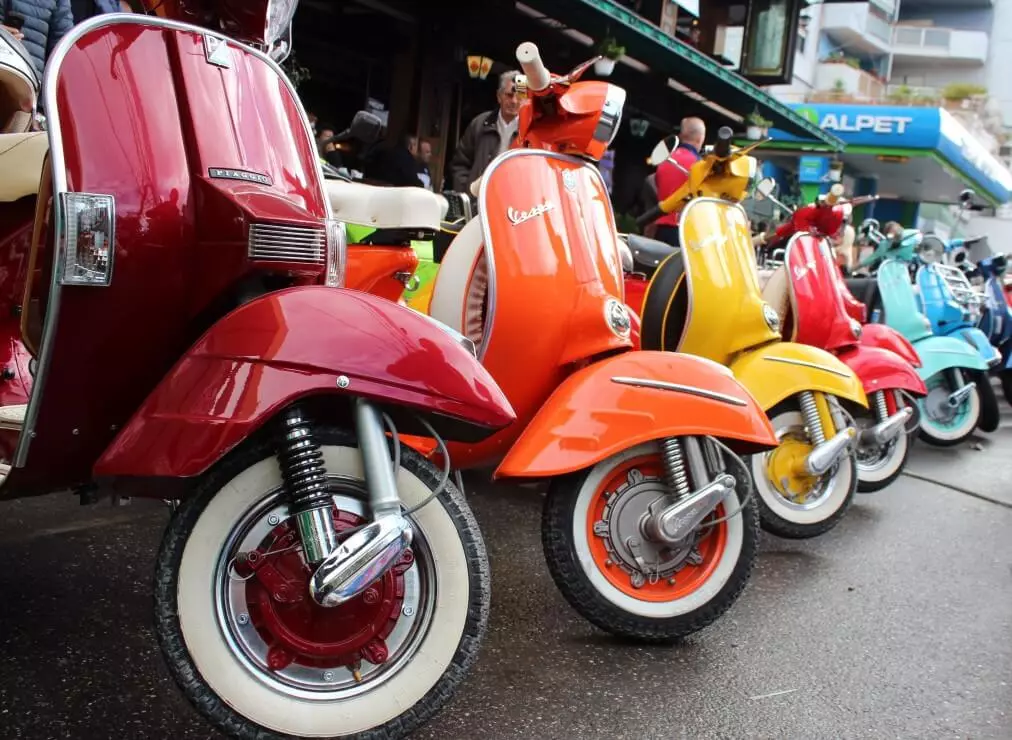 Scooty & Bike Transport In Pune
Weeple provides scooty transport and bike transportation service in Pune to over 26,000+ pin codes in India with new-age features like door delivery, 3 layer packaging, live tracking, and more that delivers a quality experience. Under two-wheeler transport for motorcycles, scooters, or bikes, we provide a three-layer packaging worth Rs 1500 which is included in bike transport charges.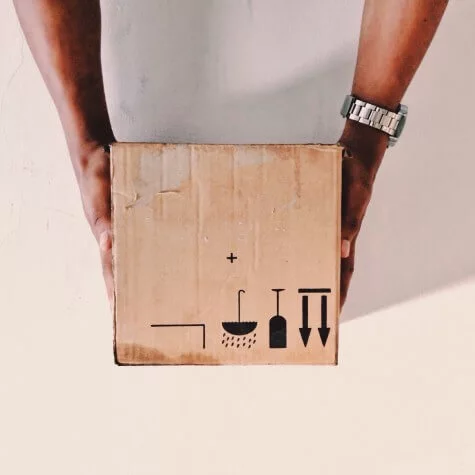 Parcel and Courier Service In Pune
Weeple is a logistics company in Pune transporting parcel, courier, cargo transportation, and logistic services to pan India. We render door-to-door logistics service, which means that we can handle every aspect of pickup to delivery. You get to choose to add addons like doorstep pick, and we provide you with an easy-to-use system to transport your parcel or cargo like bike, or goods to anywhere in India.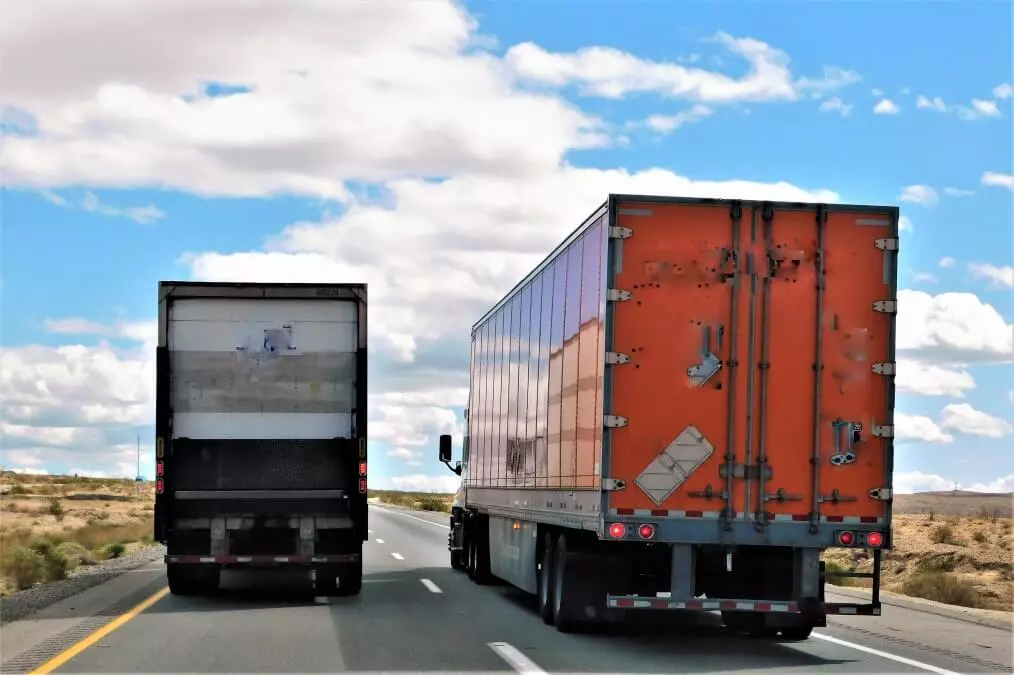 Full Truck Booking Service In Pune
Weeple logistics provides full truck booking service with a facility to get in-transit goods insurance. For the various type of material, the company provides open trucks and covered body containers with a length of 14 feet, 17 feet, 19 feet and 32 feet of your goods to pan India. Weeple provides you a pan India reach to expand your business to new customers, markets and cities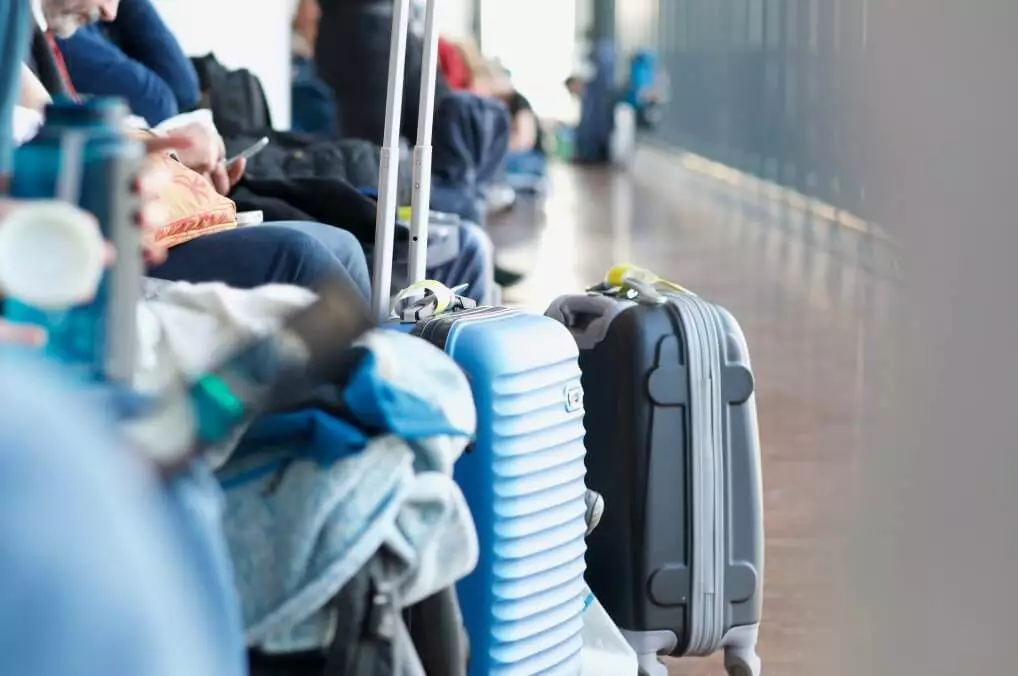 Luggage Transport Service In Pune
Weeple provides luggage shipping and transport service in Pune with door delivery, live tracking, and additional packaging facility. Weeple offers all of India shipping services for your bags, suitcases, clothes, and other personal items. You can ship any of your items to any destination in India easily with Weeple! Our services are cost-effective. Weeple can also provide additional packaging at a nominal cost.
Door to Door Service
Under door-to-door delivery, your goods are delivered to your address with zero hassle. This is especially helpful in urban cities where self-pickup is expensive and hectic.
Live Tracking
You are able to track your goods in transit, ensuring that you can see their current status by entering your LR Number onto Weeple tracking page. LR number is mentioned on your receipt.
New-age Technology
Weeple has the latest technology and in-depth knowledge in transporting goods across all of India. Weeple aims to deliver a quality transportation service by optimizing the whole operation.
Pan India Reach
Weeple can transport your goods to every single part of India, covering over 3000 cities spread over 26000 pin codes, to offer you a true pan India reach. Weeple is a one-stop solution for pan India.
Insurance Facility
Weeple logistics guide you in obtaining your goods insurance, that is being transported, either through agents or online. Insurance is optional and can be done on request for security purposes.
Additional Packaging Facility
Weeple offers you a variety of custom, high-quality packaging for your goods to significantly reduce the chance of damage during transport. Weeple provides a variety of package types.
Get in touch
Weeple is truly the solution you are looking to transport your goods. Weeple is a registered private limited company, has the latest technology, a complete transport solution, #startupIndia recognition, wide reach, and many more wonderful features,what more do you need?
3000+ Cities Covered
Door to Door Service
Complete LogisticsService
Highly Trusted and Recognized
Live Tracking & Latest Technology
Ship your cargo and parcels in easy-ease mode!
Book Service at Best Price Now!