Live Status & Indore to Patna Parcel Service Information
(Date 30/3/2023)
| | |
| --- | --- |
| Current Status | SERVICEABLE as of Today - Date 30/3/2023 |
| Distance | 1143 KM |
| Source | Indore, Madhya Pradesh |
| Destination City | Patna |
| Destination State | Bihar |
| Charges | From ₹ 567 for Direct Pincode; From ₹ 1167 for ODA |
| Contact | 8871249766 |
| Delivery Type | Door Delivery |
| Pickup | Door Pickup at Extra Charges |
| Other Active Services | Parcel service, Bike Transport, Logistics Service, Courier Service, Luggage Transport, Household Goods Shifting, Goods Transport, Transport Service, Part Load Transport, Bike Courier, Packers and Movers, Scooty Transport |
Book Parcel Transport Service from Indore to Patna
Parcel service is a company that delivers parcels, packages, or other goods to customers from Indore to Patna. Parcel services usually provide their vehicles and drivers to transport the goods. They may also offer additional services such as providing a tracking number for the parcel, door delivery, and packaging at an extra cost meant for Patna.
Parcel services are typically used by consumers who want to purchase items from online stores that do not offer in-store pick-up options or when they need to send items as gifts, often with on-time delivery.
Directly Accepting following bikes for Indore to Patna, Please call our customer support to get status for others
Royal Enfield - Thunderbird 350 - Performance
Piaggio - Vespa - Scooter
Bajaj - DOMINAR 400 - Motorcycle
Kawasaki - Vulcan S - Performance
Suzuki - GSX-R1000 - Performance
Hero - Pleasure - Scooter
Bajaj - Discover 100 cc - Motorcycle
Bajaj - DOMINAR 250 - Motorcycle
Mahindra - Mojo XT300 - Motorcycle
Triumph - Street Triple S - Performance
Harley Davidson - FAT BOY - Performance
Mahindra - Gusto - Scooter
Triumph - Speed Twin - Performance
Honda - HORNET 2.0 - Motorcycle
Recently accepted goods for transportation from Indore to Patna
Kitchen & Dining - Home & Garden - Barware
Personal Care - Health & Beauty - Vision Care
Audio - Electronics - DJ & Specialty Audio
Electronics Accessories - Electronics - Memory Accessories
Clothing - Apparel & Accessories - Activewear
Video - Electronics - Video Accessories
Hobbies & Creative Arts - Arts & Entertainment - Musical Instrument & Orchestra Accessories
Pool & Spa - Home & Garden - Pool & Spa Accessories
Personal Care - Health & Beauty - Cosmetics
Lawn & Garden - Home & Garden - Watering & Irrigation
Athletics - Sporting Goods - Track & Field
Kitchen & Dining - Home & Garden - Food & Beverage Carriers
Medical - Business & Industrial - Medical Equipment
Hobbies & Creative Arts - Arts & Entertainment - Arts & Crafts
Outdoor Recreation - Sporting Goods - Outdoor Games
Hobbies & Creative Arts - Arts & Entertainment - Musical Instruments
Hobbies & Creative Arts - Arts & Entertainment - Musical Instrument & Orchestra Accessories
Weapons - Mature - Gun Care & Accessories
Food Items - Food, Beverages - Fruits & Vegetables
Lawn & Garden - Home & Garden - Gardening
Outdoor Recreation - Sporting Goods - Hunting & Shooting
The Best Way to Pack and Send a Parcel to Patna
Packaging a parcel for shipping to Patna is not an easy task as there are many things to consider. But with the help of a parcel courier service, you can make sure that your parcel is packaged properly and delivered on time.
There are two ways to pack a parcel for shipping: by hand or using a packing machine. The first option is usually more expensive than the second one, but it also provides more protection for your shipment meant for Patna.
Hand packing of a parcel: if you want to pack your shipment manually, you should use a plastic bag or wrapping paper and make the following preparations: Take out all the items from your package and place them on a flat surface. Ensure that you have enough packing material to cover the items in your package. A plastic bag can be used for this purpose if large enough. Make sure that all of the edges of your packaging are closed tightly so that no air can enter. In the case of wrapping paper, make sure that the paper is folded over and around the item being wrapped so that it can't tear before reaching Patna.
How to pack a laptop in a box: if your laptop fits in an envelope, you should use this method. If not, you should place it inside another package with packing material surrounding it and close it tightly with tape.
Tracking options for delivery & courier services for Patna
Tracking your parcel has become a lot easier with the introduction of advanced technology. You can track your parcel directed towards Patna by using the tracking number provided to you on the tracking page.
Package tracking numbers are usually generated by the courier or delivery service and are used to track the location of parcels intended for Patna. They usually consist of an alphanumeric code that uniquely identifies each delivered parcel. Your tracking number is the same as your LRN number, which Should be mentioned On your LRN receipt.
Choose The Best Parcel Service for Your Needs
When sending parcels leading to Patna, it is important to choose the right Indore to Patna courier service for your needs. Some factors to Take into account Are the cost, location of Office And the time taken to deliver your parcel on the way to Patna. There are different types of services available and there exists pros and cons of each. You can also book Indore to Pavapuri Parcel Service
Parcel services are the best option for sending parcels. These affordable services provide express parcel delivery, courier services, and time-sensitive deliveries. They offer free delivery in some areas and have varying charges for others. Parcel services have offices located in all major cities across the country and also offer Indore to Patna Part Load Transport services for all type of consignments, packers and movers, bike courier service in Indore to Patna, material delivery, and information about prices, charges, and locations.
Weeple Logistics, which is in the business of parcel delivery, caters to a wide range of industries and sectors. The express parcel service in Indore to Patna offers its services to customers across the country and in major cities.
Indore to Patna Bike Parcel Service
Indore to Patna Bike parcel services are on the rise. This service helps you in bike transportation and scooty transfers around the country. Bike transportation services are reliable and excellent for transporting. Two-wheeler under courier services from Indore to Patna.
If you are looking for a bike parcel service, Weeple's Indore to Patna bike transportation service has great customer reviews, excellent service and is reliable. They offer affordable rates, with quick turnaround times, and high average satisfaction rating.
Bike parcel services are a fast, reliable, and budget-friendly service that is riding the waves of digitalization. Bike shippers will deliver your bikes and scooters over long distances at pocket-friendly prices.
Popular Localities for Indore to Patna Transport
| Area | Zone | Locality | City |
| --- | --- | --- | --- |
| Indore Courts | Jalodiyagyan | Sanawadia | Pipalda |
| Limbiodapar | Agra | Khurdi | Dharnaka |
| Indore Nagar | Sanwer Link Road Indore | Paliya | Banadia |
| Phulwari | Patna Sadar | Sampatchak | Dinapur Cum Khagaul |
| Danapur | Other Areas | Dulhin Bazar | Paliganj |
| Bihta | Bikram | Maner | Naubatpur |
Bike Transfer to Patna
Bike shippers have an extensive network of warehouses, which makes shipping with us a Breeze! For those who are looking for a trusted parcel delivery service intended for Patna, surface express parcel service is the top choice. With years of experience, surface express has mastered the art of delivering parcels to customers in both a timely and affordable manner. In addition to our four-day delivery service, which is perfect for those last-minute gifts, we also offer other services to meet all your needs. With our variety of services available for Patna, we are sure to be able to accommodate all of your shipping needs. With more than 4 years of experience, surface express parcel service is the top choice for thousands across the globe.
Send Parcel to Patna in Indore With Weeple
The good news for all the customers who have been looking for an additional packing facility is that you have found it with a wide range of products and services in Indore for Patna.
We are a group of high-quality packers who will package your parcels and send them to their destination. We take pride in our work and make sure that our customers are satisfied.
A new facility has been announced for the shipping industry. This Will help companies send parcels, gifts, and more to Patna with high-quality materials, quality packing material, and corrugated sheets. The company provides door to door deliveries to customers at an extra charge. Quality service is provided to ensure a smooth transaction. Pune to Patna Parcel Services can also be booked.
We are a courier service offering a range of delivery options meant for Patna to suit any size business. The company offers both national and domestic express parcel delivery services, as well as on-demand local courier services across India. We offer an affordable price with reliable and speedy deliveries.
We are one of the best providers of door-to-door courier services for Patna, including parcel delivery services in Indore. We offer our customers a full range of parcel delivery and freight services to all destinations in India. One of the popular nearby parcel service like Parcel Service Indore to Pakribarwan, Bihar can also be booked online.
Door to Door Parcel Delivery Service by Weeple
Weeple offers a doorstep delivery service to its customers. The service is available for all types of consignments, including parcels, documents, and even vehicles to Patna.
We also offer reliable services like two-wheeler courier services, bike shipping services, bike delivery services, national express parcel services, domestic courier services, delivery of consignments, moving services, surface express parcel services, bike transportation services, bike transport, logistics services and other Indore to Patna transport services across India.
Please fill in the form or call on 8871249766 for parcel charges, bike transport charges, bike parcel charges, transportation price quotes, bike transport service charges, and additional charges for Packaging in Indore for Patna.
A highly trusted and #startupIndia recognized startup!
About Us
Covered by various newspapers.
Weeple Logistics Solution Private Limited
Weeple Logistics Solution Private Limited is a well-established private limited firm that specialises in product shipping from Indore to Patna using cutting-edge technologies. We have been providing excellent service to some of most well-known organisations of India for many years.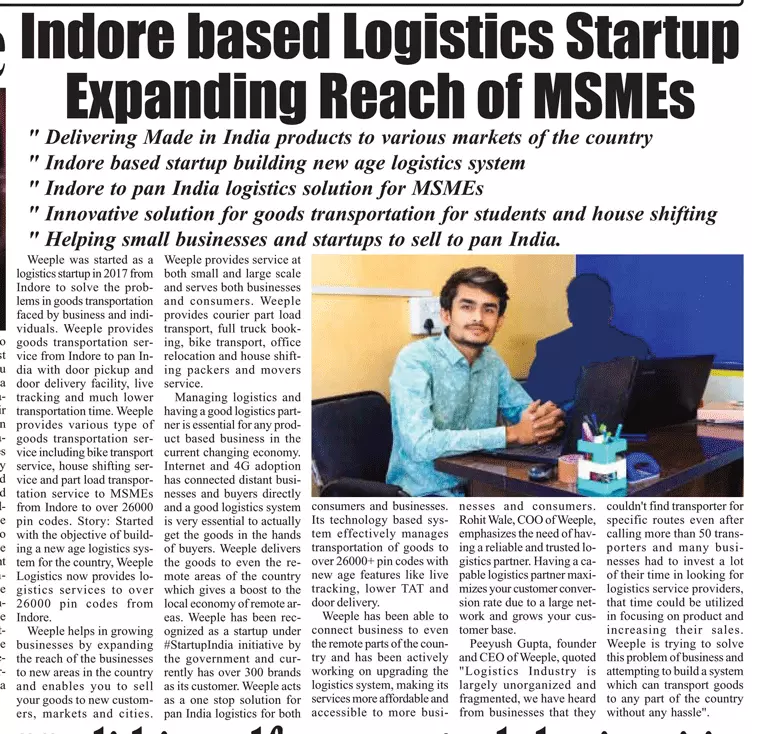 Get in touch
Without a question, Weeple is one of the best option for getting your goods delivered to Patna. Weeple is a private limited company with cutting-edge technology, a comprehensive transportation solution, #startupIndia recognition, a national footprint, and a boatload of other incredible features; what more could you ask for?
We cover over 3000 cities
Service from Door to Door
Complete Logistics Service
Highly Recognized and Trusted
Live Tracking and Cutting-Edge Technology
Ship your parcel to Patna with ease!
Now is the best time to get the best parcel transport services in Indore for Patna!