Live Status & Pune to Patna Logistics Services Information
(Date 9/8/2022)
| | |
| --- | --- |
| Current Status | SERVICEABLE as of Today - Date 9/8/2022 |
| Distance | 1684 KM |
| Source | Pune, Maharashtra |
| Destination City | Patna |
| Destination State | Bihar |
| Charges | From ₹ 623 for Direct Pincode; From ₹ 1223 for ODA |
| Contact | 8878876676 |
| Delivery Type | Door Delivery |
| Pickup | Door Pickup at Extra Charges |
| Other Active Services | Part load transport, Packers and Movers, Express Logistics Service, Bike Courier, Courier, Logistics Service, Transport Service, Bike Transport, Goods Transport, Part Load Transport, Household Goods Shifting, Scooty Transport, Courier Service, Luggage Transport |
Patna Part Load Transport (PTL) Service Provider in Pune
We are a Pune to Patna part load transport service provider that specialises in Patna PTL deliveries. Machines, carton boxes, auto parts, containers, and other goods are delivered from Pune to Patna by us. We also provide Pune to Patna logistics services to assist you in consolidating or breaking down your goods arriving in Patna.
A part-load transportation firm is a logistics service provider that specialises in less-than-truckload deliveries (LTL). Part-load carriers can send your items all throughout the country, including from Pune to Patna, with door-to-door service.
Directly Accepting following bikes for Pune to Patna, Please call our customer support to get status for others
Yamaha - MT15 - Motorcycle
Harley Davidson - LOW RIDER S - Performance
Kawasaki - Vulcan S - Performance
Kawasaki - Ninja650 - Performance
Kawasaki - Versys 650 - Performance
Suzuki - Hayate - Motorcycle
Kawasaki - Ninja 400 - Performance
Triumph - BONNEVILLE SPEEDMASTER - Performance
Harley Davidson - STREET 750 - Performance
UM Lohia - Classic - Performance
Triumph - Street Scrambler - Performance
Mahindra - Centuro - Motorcycle
Bajaj - KTM Duke 200 cc - Motorcycle
Honda - CB HORNET 160R - Motorcycle
Recently accepted goods for transportation from Pune to Patna
Video - Electronics - Video Players & Recorders
Food Items - Food, Beverages - Bakery
Hobbies & Creative Arts - Arts & Entertainment - Musical Instruments
Personal Care - Health & Beauty - Vision Care
Food Items - Food, Beverages - Fruits & Vegetables
Marine Electronics - Electronics - Marine Radios
Photography - Cameras & Optics - Darkroom
Health Care - Health & Beauty - Specimen Cups
Vehicle Parts & Accessories - Vehicles & Parts - Watercraft Parts & Accessories
Flood, Fire & Gas Safety - Home & Garden - Fire Extinguisher & Equipment Storage
Print, Copy, Scan & Fax - Electronics - Printer, Copier & Fax Machine Accessories
General Office Supplies - Office Supplies - Labels & Tags
Hobbies & Creative Arts - Arts & Entertainment - Musical Instrument & Orchestra Accessories
Hobbies & Creative Arts - Arts & Entertainment - Musical Instruments
Outdoor Recreation - Sporting Goods - Cycling
Food Items - Food, Beverages - Condiments & Sauces
Lighting - Home & Garden - Lighting Fixtures
Decor - Home & Garden - Backrest Pillows
Household Appliances - Home & Garden - Climate Control Appliances
Communications - Electronics - Telephony
Kitchen & Dining - Home & Garden - Cookware & Bakeware
Less Than Truck Load Transport to Patna
Part load shipping prices from Pune to Patna start at Rs 650 and are determined by the shipment's weight, location, and dimensions.
In part load services, GST is frequently applied on a reverse charge basis.
Part load transportation services from Pune to Patna for a variety of items may be transported online. Different types of trucks are used for pan-India cargo transport based on product specifications, with the goal of providing fast delivery services, excellent service, trustworthy customer service, services for various types of goods, and goods distribution services are provided for customer satisfaction across the country and Patna. Indore to Patna Part Load Transport services can also be booked through us. Shipments are dispatched based on vehicle availability in order to provide clients with the highest level of satisfaction and peace of mind. We mostly employ road transportation for part truck load transportation, industrial products transportation, and to try safe delivery of various types of loads meant for Patna.
Reliable Road Transport Service
Road Transport Services is a nationwide courier service in Pune aimed towards Patna that provides a wide range of transportation services to consumers throughout India. We provide a wide range of cargo transportation services, including road transport, cargo shipping, and courier service in Pune destined for Patna.
Weeple is a transportation firm that specialised in road transportation. On the way to Patna, our customers may rely on us for transportation solutions such as national, domestic, inter-city, and local freight forwarding, distribution, and more.
Choose The Best Pune to Patna Transport Company
Part load trucking businesses transported almost two million cargo in India in 2015. This is a common and cost-effective method of transporting modest amounts of commodities inside the United States. Part load transport services are becoming more popular in Pune Patna since it can be difficult for some businesses to afford large trucks and drivers, especially if they are just starting out. You may also book Pune to Pavapuri Part Load Transport.
Businesses require adaptable transportation services. It is challenging to utilise the available resources while keeping an eye on the destination when transporting a truck load of freight. This is where a Pune to Patna transport comes in useful!
Because of the volume of products being moved, the logistics business is thriving. It is critical to have a dependable Patna service provider in Pune to ensure the secure and timely delivery of your goods. A half load transport service can handle the logistics for you, so you don't have to.
Pune to Patna Goods Transportation Services
Part load transport services are a sort of logistics solution that ensures the safe and on-time transportation of products to Patna. It is a service that is commonly utilised by small and medium-sized businesses. There are several advantages to using this service, including: - reduced chance of damage to products during transportation - reduced danger of theft or loss while transit - reduced fuel usage, vehicle wear and tear, and other related expenses - Increased efficiency in terms of moving commodities to Patna. - Lower carbon footprint - Faster and higher-quality product delivery to the consumer. The process of transporting a load from Pune to Patna is typically carried out by an individual truck or a container. A common truck load might weigh between 1,000 and 18,000 kilos. In some cases, it may be heavier than that. - The items will be loaded into a truck, which will then be driven to the appropriate place where goods are to be transported. It is typically utilised when the weight or bulk of what needed to be delivered to Patna renders a full vehicle unsuitable.
Popular Localities for Pune to Patna Transport
| Area | Zone | Locality | City |
| --- | --- | --- | --- |
| Srpf | Nanded | Ranmala | Nimgaon Mahalungi |
| Shinoli | Nanvij | Veer | Kelawade |
| Tambe | N WCollege | Utroli | Kasari |
| Phulwari | Patna Sadar | Sampatchak | Dinapur Cum Khagaul |
| Danapur | Other Areas | Dulhin Bazar | Paliganj |
| Bihta | Bikram | Maner | Naubatpur |
Logistics Services in Pune for Patna
There are several firms that provide transportation services in today's globe. However, finding a business that can provide part load transport services to Patna is challenging. These services are getting increasingly popular. People employ these kind of services for a variety of reasons. The first reason is that they do not have the time or means to deliver their items all the way to Patna. The second reason is that they have an immediate need for these things and do not want to wait between ordering them and obtaining them in Patna. The third reason is that they seek to save expenses by sharing them with other clients that want similar items or resources. This service's relevance will only grow in the future as it becomes increasingly popular with businesses that need to carry industrial items rapidly and cheaply across great distances, such as Pune to Patna.
Send Cargo to Patna With Weeple
Road transportation services are the backbone of the logistics business and are critical to any country's prosperity. They provide a dependable and cost-effective mode of delivering goods, products, and commodities from Pune to Patna. Among the services provided by road transportation are: - Road freight transport services - Cargo transportation via road - Delivery service - Transportation and logistics - Pune to Patna Parcel Services.
People are discovering that they can't always travel to a store or a warehouse to acquire what they need, so they're turning to part load transport services. This is especially true when you require something that you do not use on a daily basis, such as a spare auto part.
Part-load transport companies in Pune can deliver items in numbers too small for full-load vehicles. They typically deal with small firms who do not want the trouble of operating their own fleet of vehicles. A common nearby service is part-load transport from Part Load Transport service from Pune to Pakribarwan, Bihar.
The logistics sector is a cutthroat business. Customers prefer to pick a firm that delivers the best dependable service, even if there are several organisations that provide the same services.
Door to Door Part Load Delivery Service by Weeple for Patna
To remain competitive, businesses must provide their clients with a number of various options that will meet their demands. One method to accomplish this is to offer part-load transportation services from Pune to Patna. Clients may select which components of their cargo they want delivered and when they want them delivered using these services. This helps them to save money on shipping and delivery time while still obtaining what they need at Patna when they need it.
The time it takes to transport a product from the plant to the client in Patna is an important aspect in deciding its success.
A highly trusted and #startupIndia recognized startup!
About Us
Covered by various newspapers.
Weeple Logistics Solution Private Limited
Weeple Logistics Solution Private Limited is a well-known private limited firm that specialises in all forms of product shipping from Pune to Patna using cutting-edge technologies. We've been providing unrivalled service to some of India's most well-known organisations for many years.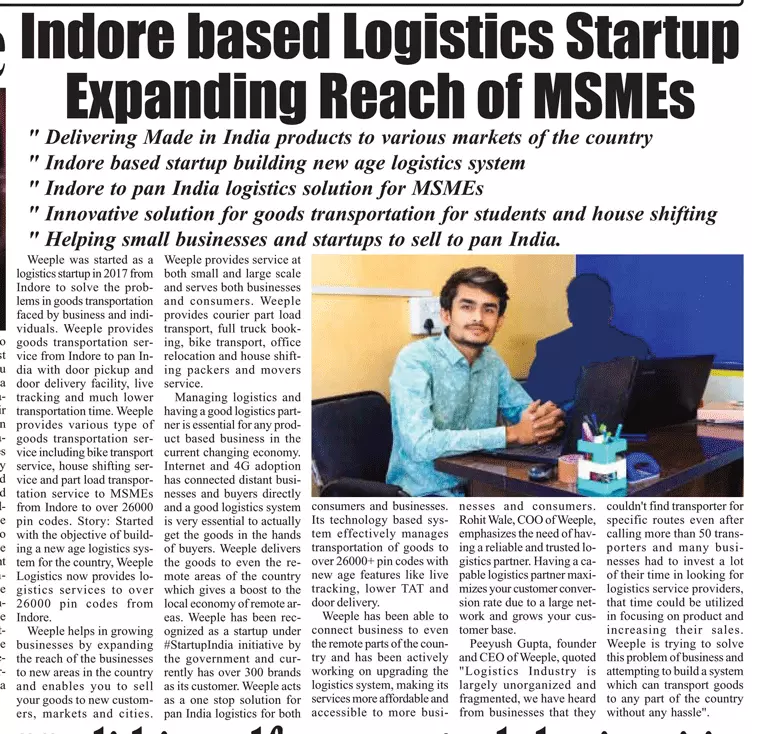 Get in touch
Without a doubt, Weeple is the greatest option for moving your bike and other vehicles to Patna. Weeple is a private limited business with cutting-edge technology, a comprehensive transportation solution, #startupIndia recognition, a nationwide footprint, and a slew of other amazing features; what more could you want?
Over 3000 cities are covered
Service from Door to Door
Complete Logistics Service
Highly Recognized and Trusted
Live Tracking and Cutting-Edge Technology
Shipping your items to Patna has never been easier!
Now is the best time to get the best part load transport services in Pune for Patna!