Chat with us On Whatsapp & Get Rates!
Our Services
One-stop solution for Indore to Anantnag Transport.
Popular Localities Indore to Anantnag Transport
Locality
Locality
Locality
Locality
Palakhedi
GandhinagarIndo
Kanadia
Kalmer
Vijay Nagar
Kanwasa
Khurdi
Bachhoda
Kelodkartal
Maithwada
Mhow
Hasalpur
Kelod
Industrial EstateIndo
Sumtha
Sanwer Link Road Indore
Other Areas
Khanabal
Awantipora
Barsoo
Pulwama
Aripal
Baigund
Bargam
Batagund
Bathnoor
Bouli
Buchoo
Chattargam
Dadsar
Haripora
Kachachakote
Kahleel
Lurgam
Mandoora
Midroo
Pastana
Linglish
Saimoh
Satura
Tral
Bijbehara
Anantnag
Gopal Pora
Hutmarah
Kragsoo
Martand
Nambal
Nanil
Ranbirpora
Pahalgam
Ananthnag
Achabal
Kokernag
Larnoo
Kukarnag
Dialgam
Dooru
Bonagand
Halsidar
Kaprin
Lower Mundah
Nowgam
Qanmar
Sadinare
Verinaag
Qazigund
Kund Bo
Manjmoh
Nissu
Panzeth
Wangund
Y k Pora
Kulgam
Awenura
Behibagh
Bugam
Demidulla
Frisal
Katrasoo
Khigogipora
M/gufan
Noonmai
Reban Gund
Tarigam
Yaripora
Damhal Hanji Pora
Batpora
Shopin
Achan
Shopian
Aharbal
Ahmedbad
Chimar
D h Pora
D k Marg
Gopalpora
Khull
Manzgam
Nandi Marg
Nasnoor
Nehama
Door to Door Service
Weeple provides doorstep delivery of your goods when booked under door to door service. Most of the times, there is no additional charges for door delivery.
Live Tracking
You get the facility to track your goods to get the current status of your goods being transported. This can be easily done on tracking page .
New-age Technology
Weeple Logistics has the best technology, and aims to deliver an optimized service with utmost satisfaction to you.
Pan India Reach
Weeple transports your goods to all parts of India, covering over 26000 pin codes or over 3000 cities, to ship your goods anywhere and everywhere.
Insurance Facility
Insurance is optional and can be done on request, between you and insurance company. Weeple helps you in getting insurance through agents or online.
Additional Packaging Facility
Weeple provides you a facility of high-quality packaging at minimal additional cost. This minimizes the chances of damage to your goods.
A highly trusted and #startupIndia recognized startup!
About Us
Covered by various newspapers.
Weeple Logistics Solution Private Limited
Weeple Logistics Solution Private Limited is a trusted private limited company for Indore to Anantnag with the latest and most innovative technology. We have been providing unmatched service for years, serving some of the most admired brands in India.
About Weeple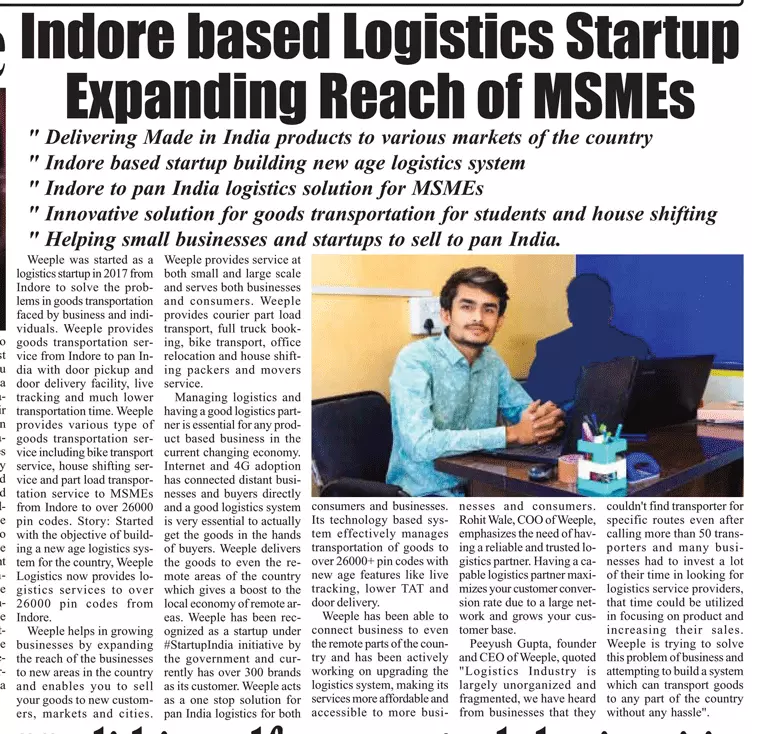 All Type Of Indore Goods Transportation And Logistics Services For Anantnag.
Weeple provides logistics and transport services from Indore to Anantnag at both small scale and large scale to ensure growth of every business and individual. Logistics and transportation service from Weeple to transport your material from Indore to Anantnag can be availed by everyone; be it individual, small business or large scale Industry. Weeple transports all type of packages like small cartons, luggage bags, clothes, household items as well as industrial part load shipment and full truck load for Indore to jammu-and-kashmir Transport.
Popular Goods Transported in Indore to Anantnag Transport
| Items | Material |
| --- | --- |
| Home & Garden - Household Appliances - Garage Door Keypads & Remotes | Business & Industrial - Medical - Medical Furniture |
| Food, Beverages - Food Items - Tofu, Soy & Vegetarian Products | Sporting Goods - Athletics - Tennis |
| Electronics - Electronics Accessories - Computer Components | Hardware - Fencing & Barriers - Fence Posts & Rails |
| Hardware - Tools - Ladders & Scaffolding | Home & Garden - Kitchen & Dining - Kitchen Appliances |
| Vehicles & Parts - Vehicle Parts & Accessories - Vehicle Safety & Security | Electronics - Audio - Audio Players & Recorders |