Chat with us On Whatsapp & Get Rates!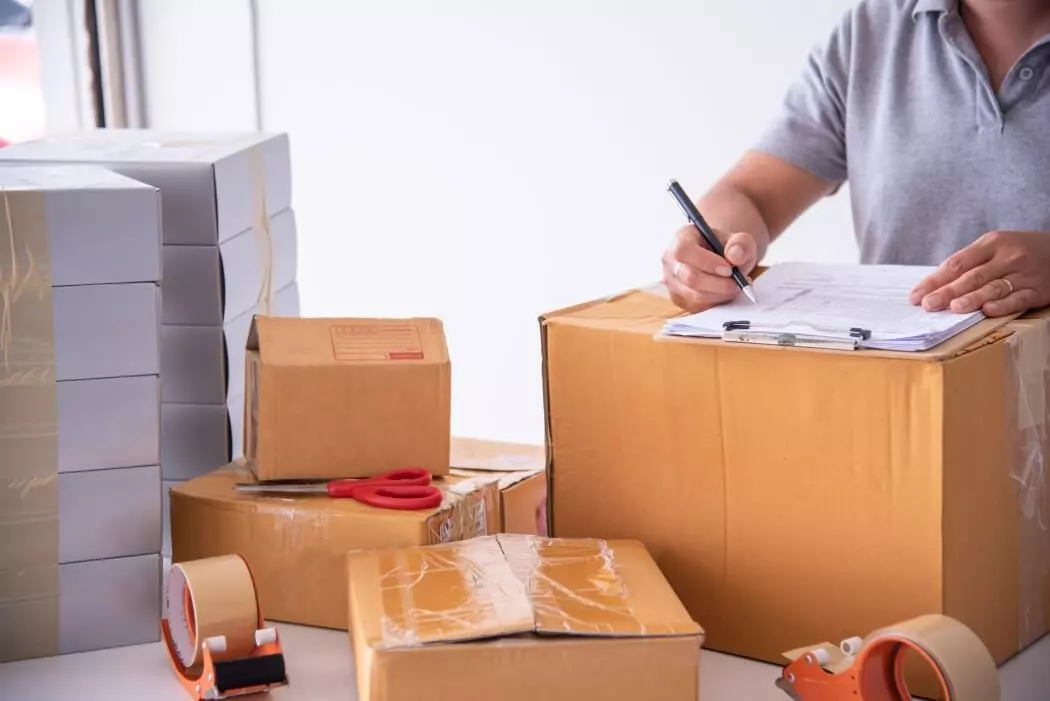 Indore to North Tripura
Part Load Transport
Get Indore to North Tripura part load transportation services (Transport in sharing) PTL at best rates. Be it 5 kg or 50000 kg, get the best Indore to North Tripura parcel and cartoon box transport services with optional goods Insurance for secured transportation.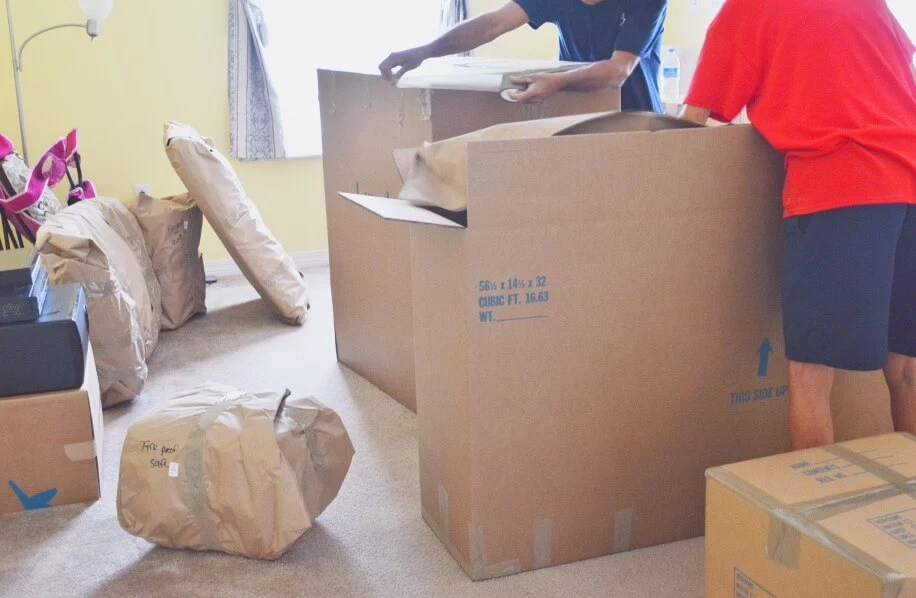 Indore to North Tripura
Packers and Movers
Get Indore to North Tripura household goods transport services (Moving service) at best rates from Weeple. Indore to North Tripura Shifting service includes goods packaging, loading, unloading, transportation and goods insurance to reduce the hassle in shifting.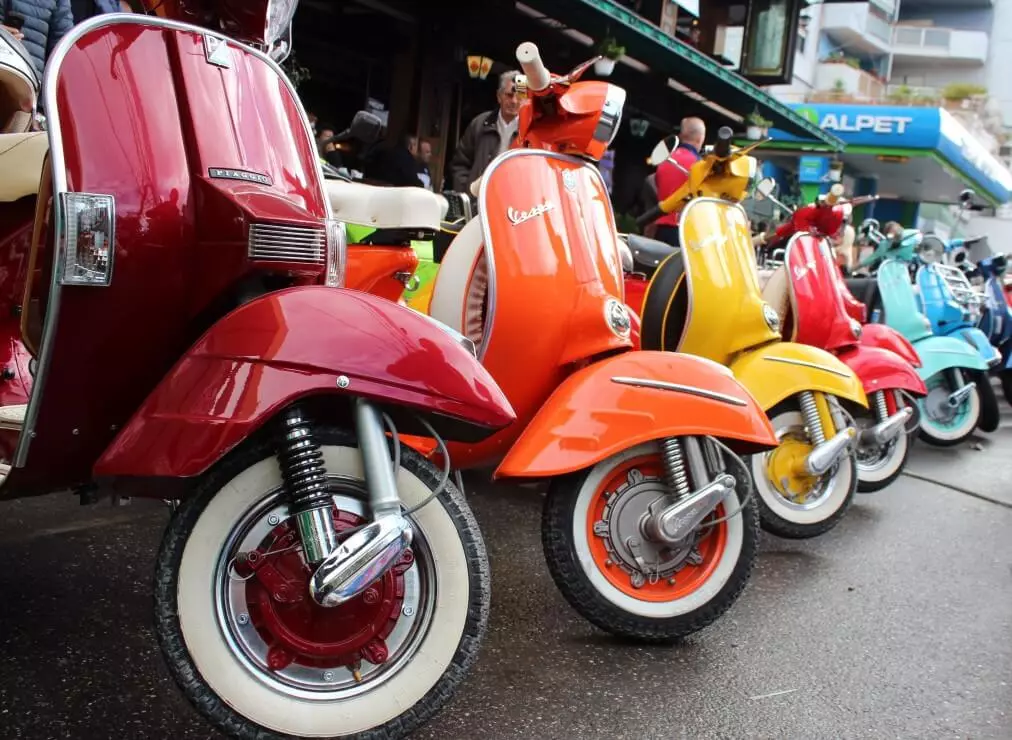 Indore to North Tripura
Scooty & Bike Transport
Transport your bike, scooter or any two-wheeler with proper care and handling at best rates with 3 layer packaging. We provide best Indore to North Tripura Scooty transport, Indore to North Tripura two wheeler Transport and Indore to North Tripura Activa Transport.
Popular Localities Indore to North Tripura Transport
Locality
Locality
Locality
Locality
Lokmanya Nagar Indore
Gujarkheda
Indore R S S Nagar
Karadia
Pedmi
Kalaria
Pigdamber
Kishanganj
Umaria
Attahada
Ambachandan
Indore Industrial Area
Dhannad
Sanawadia
Paphund
Bhilbadoli
Dharmanagar
Bishnupur
Baruakandi
Bhagyapur
Chandrapur
South Huruah
Gobindapur
East Huruah
Ichailalcherra
Praytyakroy
Kalacherra
Prayekroy
Raghna
Pratyakroy
Pratyekroy
Bagbassa
Dhupirbond
Huruah
Kameswar
Lalcherra
Radhapur
South Ganganagar
Northganganagar
Zaithang
Balidhum
Dewanpassa
Halflong
Jubarajnagar
Rajnagar
Kacharicherra
Khedacherra
Narendranagar
Piplacherra
Damcherra
Other Areas
Panisagar
Deocherra
Indurail
Chandrahalampara
Jlebassa
Ramnagar
Juri
Padmabil
Pekucherra
Rahumcherra
Rowa
Tilthai
Uptakhali
Saraspur
Brajendranagar
Kadamtala
Kalangangarpar
Kurti
Pearacherra
Premtala
Ranibari
Tarakpur
Balicherra
Churaibari
Fulbari
Lakhinagar
Sanicherra
Pecharthal
Dhanicherra
Nabincherra
Karaicherra
Ramguna
Machmara
Nalkata
Ramgunapara
Uttar Dhanicherra
Sonaimuri
Darchai
Kumarghat
Karamcherra
Sukantanagar
Ambedkarnagar
Unokoti
Betchesrra
Betcherra
Bhangmun
Vhamgmun
Paschim Hmunpui
Jampui
Kalagong
Kangrai
Vhangmun
Sabual
Tiangsang
Uttarlaljuri
Kanchanpur
Laljuri
Satnala
Sibnagar
Suknacherra
Anandabazar
Dasda
Garchirampara
Kalapani
Sakhan Serhmun
Tuichama
Durgacherra
Samrurpar
Chandipur
Gulakpur
Ichabpur
Kailashahar
Sorojini
Manuvelly
Noorpur
Rangrung
Murticherra
Sreerampur
Bhagabannagar
Chantail
Deoracherra
Goldharpur
Gournagar
Zamurtali
Jalai
Birchandranagar
Bilashpur
Dhanbilash
Fultali
Jagannathpur
Pechardahar
Sonamukhi
Irani
Latiapur
Rangauti
Jubaraznagar
Demdun
Dudhpur
Kanchanbari
Masauli
Kathalcherra
Taraninagar
Ujandodhpur
West Rataceherra
Fatikcherra
Fatikroy
Gakulnagar
Ganganagar
West Ratacherra
Rajkandi
Ratacherra
Saidarpar
Kriahnanagar
Krishnanagar
Door to Door Service
Weeple provides doorstep delivery of your goods when booked under door to door service. Most of the times, there is no additional charges for door delivery.
Live Tracking
You get the facility to track your goods to get the current status of your goods being transported. This can be easily done on tracking page .
New-age Technology
Weeple Logistics has the best technology, and aims to deliver an optimized service with utmost satisfaction to you.
Pan India Reach
Weeple transports your goods to all parts of India, covering over 26000 pin codes or over 3000 cities, to ship your goods anywhere and everywhere.
Insurance Facility
Insurance is optional and can be done on request, between you and insurance company. Weeple helps you in getting insurance through agents or online.
Additional Packaging Facility
Weeple provides you a facility of high-quality packaging at minimal additional cost. This minimizes the chances of damage to your goods.
A highly trusted and #startupIndia recognized startup!
About Us
Covered by various newspapers.
Weeple Logistics Solution Private Limited
Weeple Logistics Solution Private Limited is a trusted private limited company for Indore to North Tripura with the latest and most innovative technology. We have been providing unmatched service for years, serving some of the most admired brands in India.
About Weeple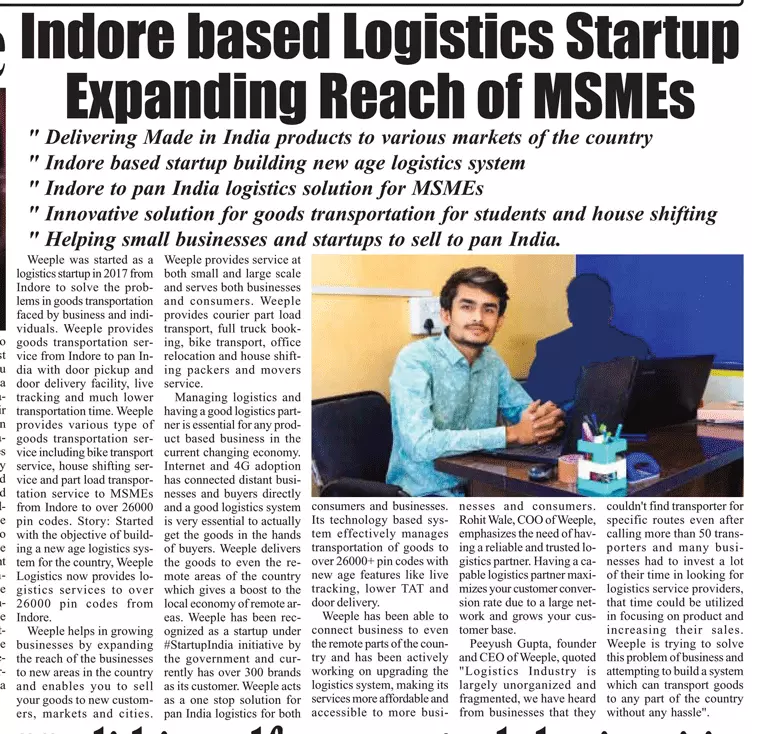 All Type Of Indore Goods Transportation And Logistics Services For North Tripura.
Weeple provides logistics and transport services from Indore to North Tripura at both small scale and large scale to ensure growth of every business and individual. Logistics and transportation service from Weeple to transport your material from Indore to North Tripura can be availed by everyone; be it individual, small business or large scale Industry. Weeple transports all type of packages like small cartons, luggage bags, clothes, household items as well as industrial part load shipment and full truck load for Indore to tripura Transport.
Popular Goods Transported in Indore to North Tripura Transport
| Items | Material |
| --- | --- |
| Home & Garden - Household Appliances - Laundry Appliances | Arts & Entertainment - Hobbies & Creative Arts - Musical Instrument & Orchestra Accessories |
| Toys & Games - Games - Tile Games | Apparel & Accessories - Clothing Accessories - Hair Accessories |
| Health & Beauty - Personal Care - Cosmetics | Sporting Goods - Exercise & Fitness - Cardio |
| Sporting Goods - Exercise & Fitness - Weight Lifting | Food, Beverages - Food Items - Fruits & Vegetables |
| Sporting Goods - Athletics - Football | Toys & Games - Games - Dexterity Games |