Chat with us On Whatsapp & Get Rates!
Popular Localities Indore to Munger Transport
Locality
Locality
Locality
Locality
Men
Jamburdi Sarwar
Jalodiyagyan
Badgonda
Binawda
Bijasan Road
Machla
Chambal
Indore Cat
Machal
Dakachia
Indore Tillaknagar
Kudana
Indore Cloth Market
Lasudia
Aurangpura
Munger
Jamalpur
Dharhara
Haweli Kharagpur
Bariarpur
Sadar Munger
Dahrhara
H Kharagpur
Tetiya Bambar
Tetia Bambar
Tarapur
Tetiabambar
Hawelikhragpur
Sangrampur
Hawelikharagpur
Tetia
Ramgarh
Asarganj
Shambhuganj
Kharagpur
Asthawan
Sheopursarai
Barbigha
Shekhopur
Sarmera
Bind
Shekhopur Sarai
Ashtawan
Shekhopursarai
Asthama
Ghat Kushambha
Sheikhpura
Sermera
Shekhosarai
Shekhpur Sarai
Shekhopura Sarai
Ashthwan
Srmera
Ghoswari
Ariyari
Aiary
Hathiyawan
Mehus
Samho
Surajgarha
Shamho
Surajgaraha
Ramgarh Chowk
Ghatkeshambha
Ghatkusumbha
Ghat Koshamba
Lakhisarai
Halsi
Khagaria
Sultanganj
Barhiya
Mokamah
Piparia
Chewara
Sheikhpur
Bandhu Bagicha
Bannu Bagicha
Chananbannu Bagicha
Chanan bannu Bagicha
Other Areas
Jamui
Ramgarh Chowkq
Bannubagichachanan
Pipariya
Pipaia
Door to Door Service
Weeple provides doorstep delivery of your goods when booked under door to door service. Most of the times, there is no additional charges for door delivery.
Live Tracking
You get the facility to track your goods to get the current status of your goods being transported. This can be easily done on tracking page .
New-age Technology
Weeple Logistics has the best technology, and aims to deliver an optimized service with utmost satisfaction to you.
Pan India Reach
Weeple transports your goods to all parts of India, covering over 26000 pin codes or over 3000 cities, to ship your goods anywhere and everywhere.
Insurance Facility
Insurance is optional and can be done on request, between you and insurance company. Weeple helps you in getting insurance through agents or online.
Additional Packaging Facility
Weeple provides you a facility of high-quality packaging at minimal additional cost. This minimizes the chances of damage to your goods.
A highly trusted and #startupIndia recognized startup!
About Us
Covered by various newspapers.
Weeple Logistics Solution Private Limited
Weeple Logistics Solution Private Limited is a trusted private limited company for Indore to Munger with the latest and most innovative technology. We have been providing unmatched service for years, serving some of the most admired brands in India.
About Weeple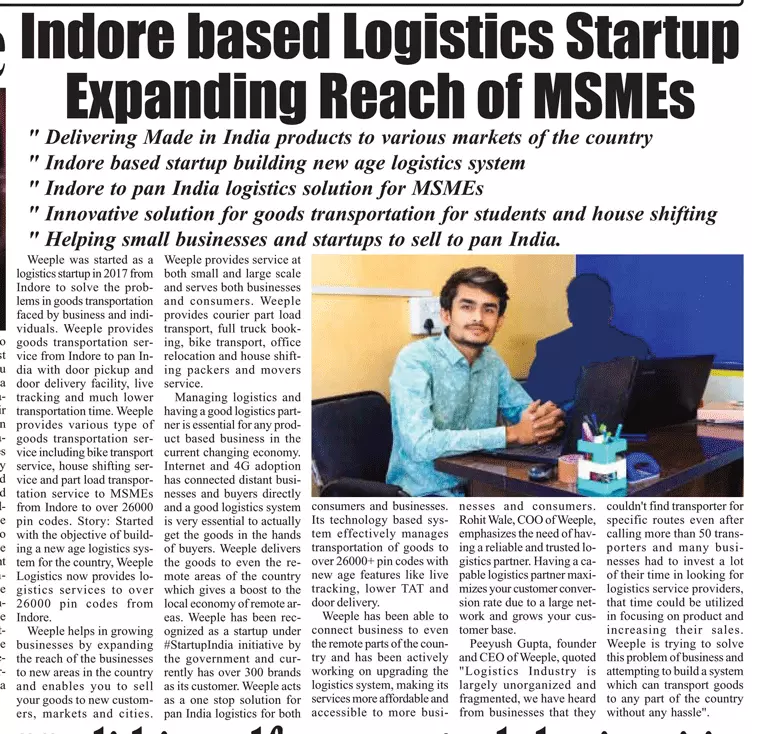 All Type Of Indore Goods Transportation And Logistics Services For Munger.
Weeple provides logistics and transport services from Indore to Munger at both small scale and large scale to ensure growth of every business and individual. Logistics and transportation service from Weeple to transport your material from Indore to Munger can be availed by everyone; be it individual, small business or large scale Industry. Weeple transports all type of packages like small cartons, luggage bags, clothes, household items as well as industrial part load shipment and full truck load for Indore to bihar Transport.
Popular Goods Transported in Indore to Munger Transport
| Items | Material |
| --- | --- |
| Sporting Goods - Athletics - Fencing | Home & Garden - Business & Home Security - Security Safes |
| Food, Beverages - Food Items - Fruits & Vegetables | Hardware - Building Materials - Countertops |
| Sporting Goods - Athletics - Wrestling | Hardware - Hardware Pumps - Home Appliance Pumps |
| Home & Garden - Household Appliances - Floor & Steam Cleaners | Home & Garden - Kitchen & Dining - Kitchen Appliances |
| Home & Garden - Household Supplies - Laundry Supplies | Apparel & Accessories - Clothing - Activewear |