Chat with us On Whatsapp & Get Rates!
Our Services
One-stop solution for Indore to Uttar Pradesh Transport.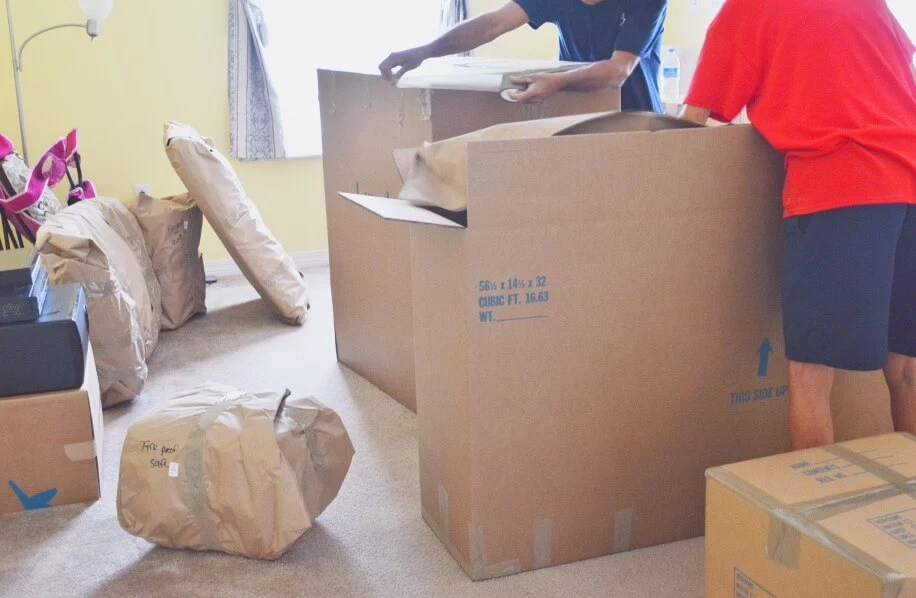 Indore to Uttar Pradesh
Packers and Movers
Get Indore to Uttar Pradesh household goods transport services (Moving service) at best rates from Weeple. Indore to Uttar Pradesh Shifting service includes goods packaging, loading, unloading, Transport and goods insurance to reduce the hassle in shifting.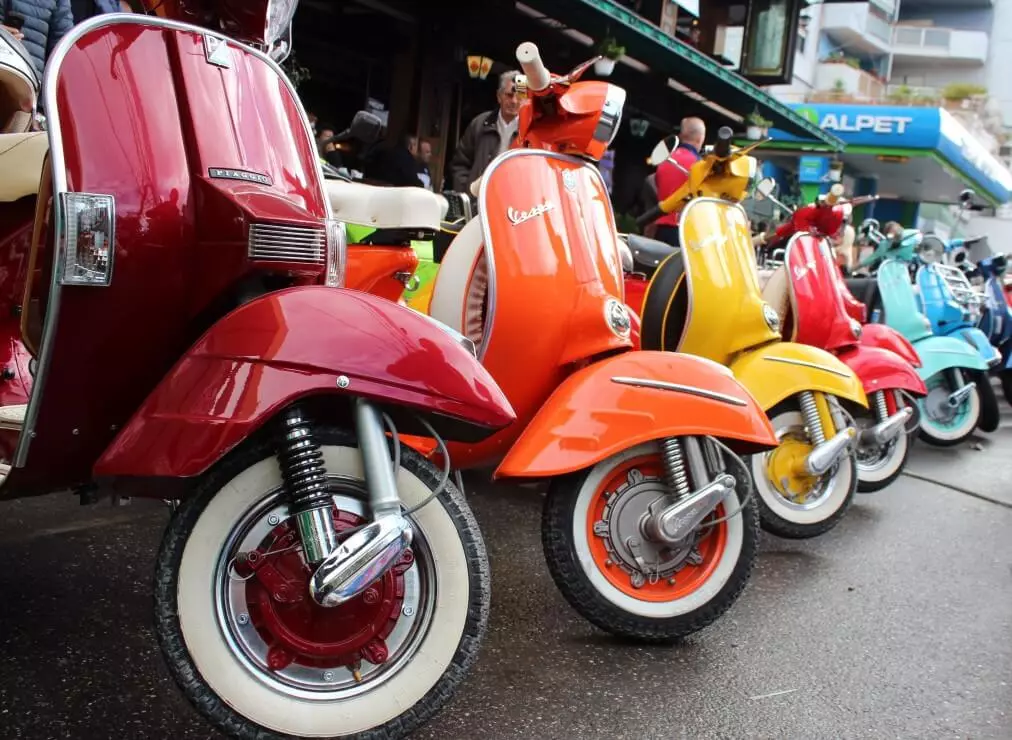 Indore to Uttar Pradesh
Scooty & Bike Transport
Transport your bike, scooter or any two-wheeler with proper care and handling at best rates with 3 layer packaging. We provide best Indore to Uttar Pradesh Scooty transport, Indore to Uttar Pradesh two wheeler Transport and Indore to Uttar Pradesh Activa Transport.
Door to Door Service
Weeple provides doorstep delivery of your goods when booked under door to door service. Most of the times, there is no additional charges for door delivery.
Live Tracking
You get the facility to track your goods to get the current status of your goods being transported. This can be easily done on tracking page .
New-age Technology
Weeple Logistics has the best technology, and aims to deliver an optimized service with utmost satisfaction to you.
Pan India Reach
Weeple transports your goods to all parts of India, covering over 26000 pin codes or over 3000 cities, to ship your goods anywhere and everywhere.
Insurance Facility
Insurance is optional and can be done on request, between you and insurance company. Weeple helps you in getting insurance through agents or online.
Additional Packaging Facility
Weeple provides you a facility of high-quality packaging at minimal additional cost. This minimizes the chances of damage to your goods.
A highly trusted and #startupIndia recognized startup!
About Us
Covered by various newspapers.
Weeple Logistics Solution Private Limited
Weeple Logistics Solution Private Limited is a trusted private limited company for Indore to Uttar Pradesh with the latest and most innovative technology. We have been providing unmatched service for years, serving some of the most admired brands in India.
About Weeple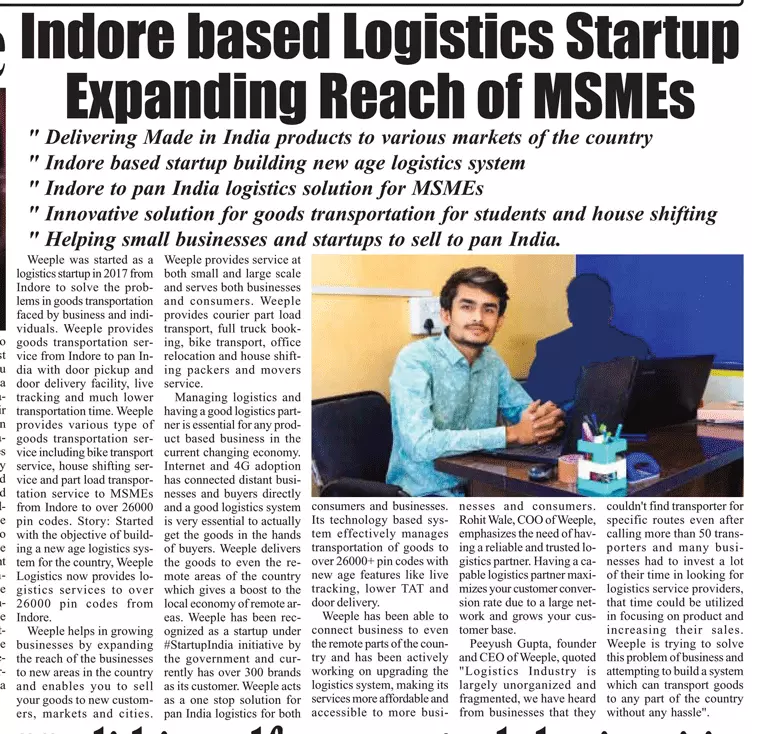 All Type Of Indore Goods Transportation And Logistics Services For Uttar Pradesh.
Weeple provides logistics and transportation services from Indore to Uttar Pradesh at both small scale and large scale to ensure growth of every business and individual. Logistics and transportation service from Weeple to transport your material from Indore to Uttar Pradesh can be availed by everyone; be it individual, small business or large scale Industry. Weeple transports all type of packages like small cartons, luggage bags, clothes, household items as well as industrial part load shipment and full truck load from Indore to Uttar Pradesh.
Popular Indore Transport Services in Indore
Services
Services
Services
Services
Indore to Madurai Transport
Indore to Warangal Transport
Indore to Moradabad Transport
Indore to Meerut Transport
Indore to Ghaziabad Transport
Indore to Aligarh Transport
Indore to Agra Transport
Indore to Bareilly Transport
Atwada
Mhow Gaon
Mendakwasa
Dakachia
Aurangpura
Jamburdihapsi
Alwasa
Tihi
Indore Kumar Khadi
Sudama Nagar
Pipalda
Indore Khajrana
Sanwer
Jamburdi Sarwar
VallabhnagarIndo
Sumtha
Ghaziabad
Ingram Institute
Shahpur Bamheta
Other Areas
Ator Nagla
Aurangabad Ristal
Bhup Kheri
Morta
Nistoli
Loni
Pasonda
Bisara
Piyaoli
Salarpur Kalan
Noida
Chhprola
Chhpyana
Roza Yakubpur
Hapur
Modinagar
Khanjarpur
Murad Nagar
Dadri
Bishrakh
Gautam Budh Nagar
Maicha
A g nioda
G B nagar
Aligarh
Atrauli
Bulandshahr
Shikarpur
Khurja
Jewer
Jewar
Sikandrabad
GoutamBuddNagar
Goutam Budd Nagar
Sikndrabdad
Sikarndrabad
Sikandarabad
Achheja
Dhoom
Debai
Anupshahr
Anupshaher
AnoupShaher
Anoop Shahr
Anupshashr
Sikarpur
Dibai
Anupshhar
Siyana
Mainpuri
Bhongaon
Bhogaon
Karhal
Karahal
Firozabad
Kahal
Bhgaon
Etawah
Bharthana
Jaswant Nagar
Saifai
Chakar Nagar
Auraiya
Auraiy
Bidhuna
Chakarnagar **
Chakarnagar
Bharthna
Etah
Kasganj
Aliganj
Jalesar
Jalessar
Patiali
Patiyali
Jaleshar
Jalesher
Firojabad
Jaleasr
Jalesasr
Shanti Nagar
Birhana Road
Colonelganj
Cotton Mill
Nayaganj
Gwaltoli
Fahimabad
Farrashkhana
Hatia
Nai Sarak
Kanpur Court
Bara Chauraha
Stock Exchange
Parade
Oef Factory
Filkhana
Kanpur
Csa
Arya Nagar
G T Road
Medical College
Kesa Colony
Motijheel
Nawabganj
Purana Kanpur
Swarup Nagar
Anwarganj
Cantt
Khapra Mohal
Meerpur
Kanpur Cantt
The Mall
Railganj
Lajpat Nagar
Vijay Nagar
Sarvodaya Nagar
Shivaji Nagar
Vijai Nagar
Govind Nagar
Harjinder Nagar
Rama Devi Chauraha
Hal Colony
Lal Bangla
Chakeri
Armapur
Kalpi Road
Jajmau
Anand Nagar
Kidwai Nagar
Rbi Colony
Yashoda Nagar
Fazalganj
Jawahar Nagar
Kaushalpuri
R K Nagar
Ashok Nagar
Premnagar
Cod
Shyam Nagar
Juhi
Nirala Nagar
New Pac Lines
Kalyanpur
Avas Vikas Yojna No3
Bairi Gaon
Kheora
Nsi Campus
Rawatpur Gaon
Ganga Ganj
Panki
Kasigaon
Kathongar
Naubasta
Kanpur Nagar
Pipergaon
Sanigawan
Taudhakpur
Ratan Lal Nagar
Dada Nagar
Munshipurwa
Transport Nagar
Vikas Nagar
K P University
Naveen Nagar
Kakadeo
Indira Nagar
Barra
Chauraha
Akbarpur
Akbapur
Pukhraayan
Pukhrayan
Kanpur Dehat
Amraudha
Kanpur Dheat
Kanpu Dehat
Sikandra
Bilhaur
Chaubepur
Sheoli
Shivrajpur
Ghatampur
KanpurDehat
Kanpur Dehta
Uttaripura
Bharu
Bidhnoo
Chaurai
Chhatarpur
Dehli Ujagar
Deosarh
Gayatri Seedh Peeth Khadeshar
Hardauli
Jamu
Kadari Champatpur
Kaindha
Kathara
Katherua
Majhawan
Ramaipur
Sapai
Sirhi Itra
Udaipur
Baikunthpur
Bithoor
Itra
Mandhana
Naramau
Pachor
Pem
Tatyaganj
Tikra
Jhinjhak
Rura
Binour
Bisayakpur
Fatehpur Roshnai
Jugrajpur
Parsauli
Raipur Kukhat
Rania
Sachendi
Bhairampur
Bhauti Pratappur
Bhimsen
Chakarpur
Mardanpur
Senpara Paschim
Rasulabad
Knpur Dehat
Amour
Aranjhami
Baraigarh
Bausar
Behta Gambhirpur
Gazipur
Gopalpur
Harchand Khera
Kudani
Narwal
Nasra
Palhepur
Palibhogipur
Rasulpur Umra
Sarh
Swaijpur
Semarjhal
Bhadrsa
Bheoli
Hithgaon
Jarkala
Kamlapur
Karbigawan
Kulgaon
Maharajpur
Mahauli
Mahua Gaon
Parasadepur
Phuphuwar
Prempur Badagaon
Purwameer
Rooma
Salempur
Sarsaul
Subhauli
Tilsahari
Farrukhabad
Kannauj
Unnao
Purwa
Uunao
Unnaao
Bihar
Unna
Safipur
Safuipur
Sfipur
Banda
Hamirpur
Allahabad **
Allahabad
Karchhana
Sirathu
Phaphamau
Soraon
Phulpur
Meja
Koraon **
Bara
Jasra
Manjhanpur
Chail
Charwa
Karari
Handia
Akorha
Karchana
Koraon
Khain
Janghai Bazar
Phoolpur
Ghiyanagar
Ugrasenpur
Holagarh
Holgarh
Mau Aima
Mauaima
Fatehpur
Varanasi
Pindra
Vanranasi
Chandauli
Sakaldiha
Pindra **
Gyanpur
Bhadohi
S r nagar
Baraut
Hanumanganj
Hanumaganj
Sahson
Saidabad
Madhuban
Lalganj
Azamgarh
Madhu Ban
Madhuban **
Burhanpur
Mehnagar **
Maduban
Ghosi
Rasra
Sadar
Sikanderpur
Bilthara Road
Sikandarpur
Bilthjara Road
Bilthra Road
Ballia
Bithara Road
Bilthararoad
Bilthra Rioad
Blthra Road
Belthra Road
Jaunpur
Shahganj
Mariahu
Mariahun
Machhlishahr
Kerakat
Badalapur
Badlapur
Machhalishahar
Machhali Shahar
Machhali Shshar
Machali Shahar
Lambhua
Patti
Kadipur
Budanpur
Budan Pur
Nizamabad
Phool Pur
Nizamabad **
Godhan Pur
Phuool Pur
Phul Pur
Faizabad
Rudauli
Rudaui
Ramsanehighat
Milkipur
Tanda
Akabarpur
Jalalpur
Allapur **
Sohawal
Sohawal **
Allapur
Milkipur **
Motinagar
Alapur
Akberpur
Milkpur
Akbarur
Bikapur
Bikapaur
Haidergarh
Haider Garh
Nawab Ganj
Ramnagar
Sirauli Gauspur
Siraul Gaus Pur
Sirauli Gaus Pur
Fateh Pur
Ram Sanehi Ghat
Ram Sanehi Gaht
Siraul Gauspur
Sirauli Gauspur**
Lucknow
Malihabad
Bakshi Ka Talab
Bakshi Ka Ta
Mohanlalganj
Amethi
Sultanpur
Sultanpur Sadar
Gauriganj
Gauraiganj
Musafirkhana
Fikhana
Musafirkna
Kadipiur
Sulatnpur
Rae Bareli
Rbl
Raebarely
Raebareli
Mrg
Maharajganj
Dalmau
Mahrajganj
Salon
Unchahar **
Tiloi
Salo N
Unchahar
Kunda
Anapur
Atrampur
Lalgopal Ganj
Lalgopalganj
Pratapgarh
Lalaganj
Raniganj
Kudna
Lalgang
Ranigaj
Mirzapursadar
Mirzapur Sadar
Robertsganj
Sonbhadra
Sonbadra
Sobhadra
Mirzapur
Marihan
Mrizapur
Mirzpaur
Sonbhaddra
Dudhi
Sonbhadr
Sonbhadar
Chunar
Adalhat
Adlalhat
Chuanr
Mirazapur Sadar
Chakia
Chanduali
Sakaldhia
Zamania
Zamnia
Ghazipur
Saidpur
Mohammedabad
Mohammadabad
Jakhanian **
M bad
Mohammadabad Yusufpur
Ghazipur Sadar
Mohammabad
Jakhania
Hardoi
Harodi
Sawayajpur
Shahabad
Sandila
Bilgram
Mallawan
Shahjahanpur
Budaun
Dataganj
Powayan
Jalalabad
Tilhar
Bareilly
Pilibhit
Bareilly I
Bareilly Ho
Baheri
Aonla
Bhamora
Meerganj
Faridpur
Fridpur
Buduan
Busauli
Bisauli
Bilsi
Bisli
Bilsi **
Datganj
Dataganj`
Datagnj
Sahaswan
Bisuali
Gunnaur
Gunnour
Guoour
Moradabad
Amroha
Sambhal
Bilari
Thakurdwara
Moradabad Thehsil
Dhanaura
Hasanpur
Chandausi
Sambhl
Thakaurdwara
Balari
Kanth
Thakuedwara
Milak
Kilak
Rampur
Bilasour
Bilaspur
Builaspur
Suar
Garhmukteshwer
Khiluai
Meerut
Simbhaoli
Dhaulana
Bijnor
Chandpur
Najibabad
Naijibabad
Nagina
Dhampur
Saharanpur
Nakur
Saharnpur
Muzaffarabad
Muzaffrabad
Muzaffrabad`
Behat
S qudeem
Sarsawa
Gangoh
Deoband
Nanauta
Nagal
Roorkee
Punwarka
Muzaffarnagar
Budhana
Shamli
Kairana
Shamli **
Mawana
Khekada
Kithore
Sardhana
Baruat
Baghpat
Baraut **
Mzn
Jansath
Muzaffarnagarmuzaffarnagar
Muzafarnagar
Budhna
Sitapur
Sitpaur
Laharpur
Laharur
Mishrikh
Misrikh
Biswan
Mahmudabad
Mahmoodabad
Laharp ur
Sidhauli
Sidhali
Lakhimpur
Dhaurahara
Mohammdi
Puranpur
Amaria
Pooranpur
Bisalpur
Barkhera
Gola Gokaran Nath
Gola
Mohammadi
Palia
Nighasan
Pallia
Gonda
Tulsipur
Tarabganj
Tarab Ganj
Cononel Ganj
Mankapur
Balrampur
Ikauna **
Tuslipur
Tulsipuir
Manakpur
Harraiya
Utraula
Manapur
Tarbganj
Tarabfanj
Tarabganij
Tarabganjj
Tarabganu
Taranganj
Bahraich
Ikauna
Bhinga
Mahasi **
Mahasi
Kaiserganj
Payagpur
Mahasi Tahsil
Nanpara
Payagpur **
Mahsi
Kaisarganj
Basti
Basti Sadar
Khalilabad
Domariaganj
Harrraiya
Bansi
Menhdawal
Rudhauli
Bhanpur Baboo
Bhanpur Babu
Itwa
Dhanghata
Harraina
Bhanpur
Basti East
Bhanpursonha
Domagariaganj
Bhanpur sonha
Shohratgarh
Naugarh
Shoharatgarh
Gorakhpur
Gorakhpur Sadar
Sader
Maharaj Ganj Sadar
Pharenda
Farenda
Nautanwa
Fharenda
Campierganj
Camperganj
Nautanawa
Nichlaul
Nochlaul
Nichlaulal
Chauri Chaura
Nichaulal
Mahraganj
Sahajanwa
Sahjanwa
Sajhanwa
KHAJANI
Khajni
Mahrajgang
Marajganj Sadar
Maharajang
Maharaganj
Maharganj
Maharjang
Maharajgang
Maharajganj Sadar
Marajganj
Nidhlaul
Nachulwa
Campeirganj
Bhowapar
Shajnwa
Basgaon
Bansgaon
Gola Bazar
Basgaob
Deoria Sadar
Deoria
Hata
Barhaj
Rudrapur
Tamkuhi Raj
Padrauna
Padaruna
Tamkuhi
Kasia
Tamkohi
Barhaj **
Bhatpsar Rani
Bhatpar Rani **
Bhatpar Rani
Bhatparrani
Maunath Bhanjan
Mau
Ghoshi
Kakhania
Mohammadabad Gohana
Badrav
Mohamda Bad Gohana
Sadar Mau
Sagari
Mehnagar
Lal Ganj
Meh Nagar
Jahana Ganj
MohdGohana
Mohammada Bad Gohana
Mohammada Bad
Sagri
Budhan Pur
Nizamzbad
Nizama Bad
Nijamabad
M bGohana
M b gohana
Mohammadabad Gohan
MdGohana
M bGohna
Mohammmadabad
Mohammdabad Gohana
Muhammadabad Gohana
Sikandarour
Bairia
Bansdih
Sikandar Pur
Siaknderpur
Basllia
Mathura
Chhata
Sadabad
Mant
Agra
Etmadpur
Kiraoli
Kheragarh
Bah
Fatehabad
Fetehabad
Keragarh
Kheragah
Fatahabad
Etdmadpur
Jasarana
Jasrana
Shikohabad
Shjkohabad
Firozbaad
Jhansi
Lalitpur
Talbehat
Garautha
Mauranipur
Jalaun
Jhnsi
Maruanipur
Moth
Mahroni
Mehroni
Orai
Konch
Madhogarh
Kalpi
Popular Goods Transported in Indore to Uttar Pradesh Transport
| Goods | Items |
| --- | --- |
| Electronics - Video - Satellite & Cable TV | Apparel & Accessories - Clothing - Outerwear |
| Vehicles & Parts - Vehicle Parts & Accessories - Vehicle Maintenance, Care & Decor | Hardware - Plumbing - Plumbing Fixture Hardware & Parts |
| Sporting Goods - Outdoor Recreation - Cycling | Sporting Goods - Outdoor Recreation - Hunting & Shooting |
| Food, Beverages - Food Items - Cooking & Baking Ingredients | Animals & Pet Supplies - Pet Supplies - Cat Supplies |
| Vehicles & Parts - Vehicle Parts & Accessories - Motor Vehicle Electronics | Food, Beverages - Beverages - Alcoholic Beverages |
| Office Supplies - Office Instruments - Writing & Drawing Instruments | Vehicles & Parts - Vehicle Parts & Accessories - Vehicle Safety & Security |