Chat with us On Whatsapp & Get Rates!
Popular Localities Indore to Nawabganj Transport
| Locality | Locality | Locality | Locality |
| --- | --- | --- | --- |
| Indore Nagar | Datoda | Sivani | VallabhnagarIndo |
| Semlia Chau | Jindakheda | Kallibillod | Bai |
| Rasalpura | Bhagora | Pagnispaga Indore | Radio Colony Indore |
| Agra | Indore Khajrana | Kankariapal | Dudhia |
| Csa | Arya Nagar | G T Road | Medical College |
| Kesa Colony | Motijheel | Purana Kanpur | Swarup Nagar |
| Anwarganj | Lajpat Nagar | Sarvodaya Nagar | Shivaji Nagar |
| Vijai Nagar | Armapur | Kalpi Road | Fazalganj |
| Jawahar Nagar | Kaushalpuri | R K Nagar | Ashok Nagar |
| Premnagar | Kalyanpur | Avas Vikas Yojna No3 | Bairi Gaon |
| Nsi Campus | Rawatpur Gaon | Ganga Ganj | Panki |
| Ratan Lal Nagar | Dada Nagar | Vikas Nagar | K P University |
| Naveen Nagar | Kakadeo | Indira Nagar | Naramau |
Door to Door Service
Weeple provides doorstep delivery of your goods when booked under door to door service. Most of the times, there is no additional charges for door delivery.
Live Tracking
You get the facility to track your goods to get the current status of your goods being transported. This can be easily done on tracking page .
New-age Technology
Weeple Logistics has the best technology, and aims to deliver an optimized service with utmost satisfaction to you.
Pan India Reach
Weeple transports your goods to all parts of India, covering over 26000 pin codes or over 3000 cities, to ship your goods anywhere and everywhere.
Insurance Facility
Insurance is optional and can be done on request, between you and insurance company. Weeple helps you in getting insurance through agents or online.
Additional Packaging Facility
Weeple provides you a facility of high-quality packaging at minimal additional cost. This minimizes the chances of damage to your goods.
A highly trusted and #startupIndia recognized startup!
About Us
Covered by various newspapers.
Weeple Logistics Solution Private Limited
Weeple Logistics Solution Private Limited is a trusted private limited company for Indore to Nawabganj with the latest and most innovative technology. We have been providing unmatched service for years, serving some of the most admired brands in India.
About Weeple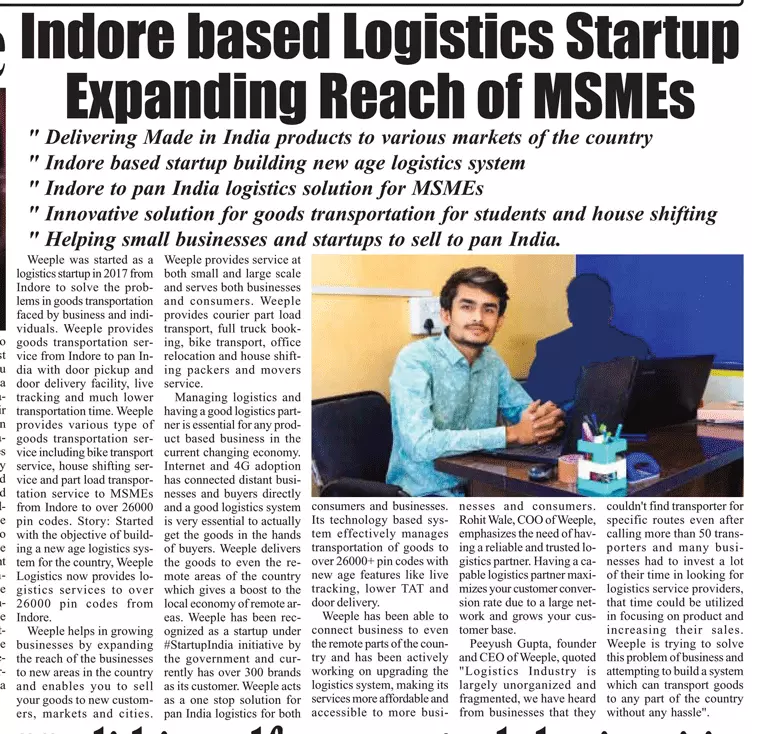 All Type Of Indore Goods Transportation And Logistics Services For Nawabganj.
Weeple provides logistics and transport services from Indore to Nawabganj at both small scale and large scale to ensure growth of every business and individual. Logistics and transportation service from Weeple to transport your material from Indore to Nawabganj can be availed by everyone; be it individual, small business or large scale Industry. Weeple transports all type of packages like small cartons, luggage bags, clothes, household items as well as industrial part load shipment and full truck load for Indore to uttar-pradesh Transport.
Popular Goods Transported in Indore to Nawabganj Transport
| Items | Material |
| --- | --- |
| Hardware - Hardware Accessories - Metal Casting Molds | Hardware - Tools - Cutters |
| Sporting Goods - Outdoor Recreation - Climbing | Sporting Goods - Outdoor Recreation - Fishing |
| Home & Garden - Lawn & Garden - Outdoor Power Equipment | Hardware - Tool Accessories - Abrasive Blaster Accessories |
| Food, Beverages - Food Items - Fruits & Vegetables | Health & Beauty - Personal Care - Cosmetics |
| Apparel & Accessories - Shoe Accessories - Shoelaces | Electronics - Audio - Audio Components |